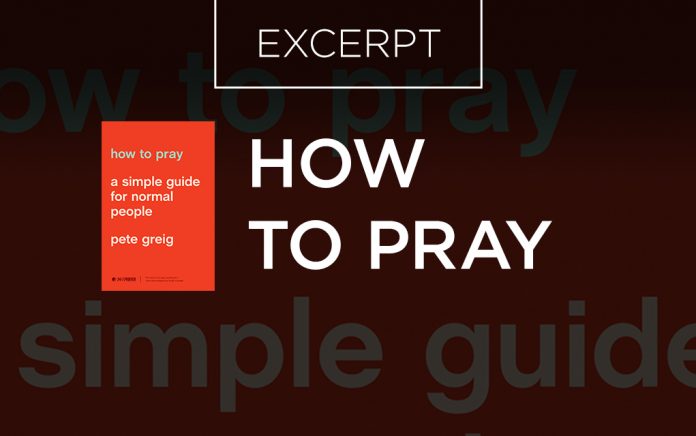 When we pray for small things, we open ourselves up to more opportunities to be grateful.
Excerpted From
How to Pray
By Pete Greig
Some of our closest friends invited us to join them in Croatia, sailing a catamaran around the Adriatic. It was to be the holiday of a lifetime. By day, we ploughed through sapphire seas under powder-blue skies, weaving in and out of the dramatic Kornati archipelago. At night, we moored in perfect coves, diving, swimming and playing cards by lamplight under the brightest stars you ever saw. It was a magical week.
One evening, we dropped anchor in a particularly beautiful natural harbor, and the kids dived into the sea as usual. By the time we'd hauled them out, wrapped them in soft towels, and settled down to supper, dusk was bathing the entire bay in a golden sheen. Everyone looked relaxed, tanned and happy. Everything was perfect until a dark, swirling cloud of mosquitoes materialized above our heads.
I'm aware, as I recount this story, that you may not be entirely sympathetic to our plight. You may even be praising God for those mosquitoes! But back on that boat, we most definitely were not. In fact, my friend James immediately began to pray against them. "Lord," he said, lifting one hand like Moses preparing to part the Red Sea, and using the other to swat his own face, "We ask you to just remove these wretched mossies, right now, in the name of Jesus."
Everyone else on the boat—two mums, five kids—heartily agreed with this prayer. Their eyes were closed, heads nodding, hands raised to rebuke Satan's little airborne militia. But my eyes were not closed, my head did not nod. It seemed such a silly prayer, for three important reasons:
My first objection was theological. God must surely be a bit too busy with Big World Problems (like the Middle East and wars and famines and stuff) to worry about optimizing the alfresco dining arrangements of posh people on yachts in the Adriatic.
My second objection was environmental. Mosquitoes are (presumably) part of God's finely tuned ecological order, and Christians aren't immune from the laws of nature. We don't surrender our insect repellents at conversion. We don't rise from the baptismal waters and keep rising, liberated from the laws of gravity.
My third objection was pastoral. Our kids were joining in with James' prayer, and so when (not if) it didn't work, tiny grains of doubt and disappointment would surely be sown within their impressionable minds, and they would surely grow up to become Satanists.
And so, as everyone else prayed, rebuking the spirit of midgey-ness in the name of Jesus, I smiled stoically, swatting mosquitoes until they all said, "Amen." As they did so, the most annoying and unfortunate thing occurred: At that precise moment, a gentle breeze arose and swept the mosquitoes away to some other (doubtless less prayerful) yacht.
A chorus of praise erupted from our boat. Everyone was suddenly grinning and thanking God for hearing their prayers, for caring about his kids, and yes, for making the night's perfect alfresco dining arrangements just that little bit more perfect.
To this day, I don't know whether that was an actual, proper answer to prayer or just a well-timed meteorological fluke masquerading as one. But this I do know, and I know it for sure: When you pray about the small things in life, you get to live with greater gratitude. If you only ever pray about big, ugly, gnarly problems that seem onerous and serious enough to warrant divine intervention, you will only very occasionally experience miracles. But when you learn to pray about trivia—ridiculous incidentals like "Lead us not into temptation but deliver us from evil midges," and even inevitabilities (like "Give us this day our daily bread" in a land that's full of the stuff)—you start to notice how many minor miracles are scattered around in the course of an average day.
As Archbishop William Temple famously said, "When I pray, coincidences happen; when I stop praying, the coincidences stop happening." It is by asking more for lesser things that we rediscover how to live with the wide-eyed wonder of children. By filling our days with tiny prayers, we relinquish our sense of entitlement and receive each detail as a blessing, each coincidence as a minor miracle, training our neural pathways to "rejoice always, pray continually, give thanks in all circumstances; for this is God's will for you in Christ Jesus."
Tell me more about this book »
Order this book from Amazon.com »
Excerpted from How to Pray: A Simple Guide for Normal People by Pete Greig. Copyright © 2019. Used by permission of NavPress. All rights reserved. Represented by Tyndale House Publishers, Inc.