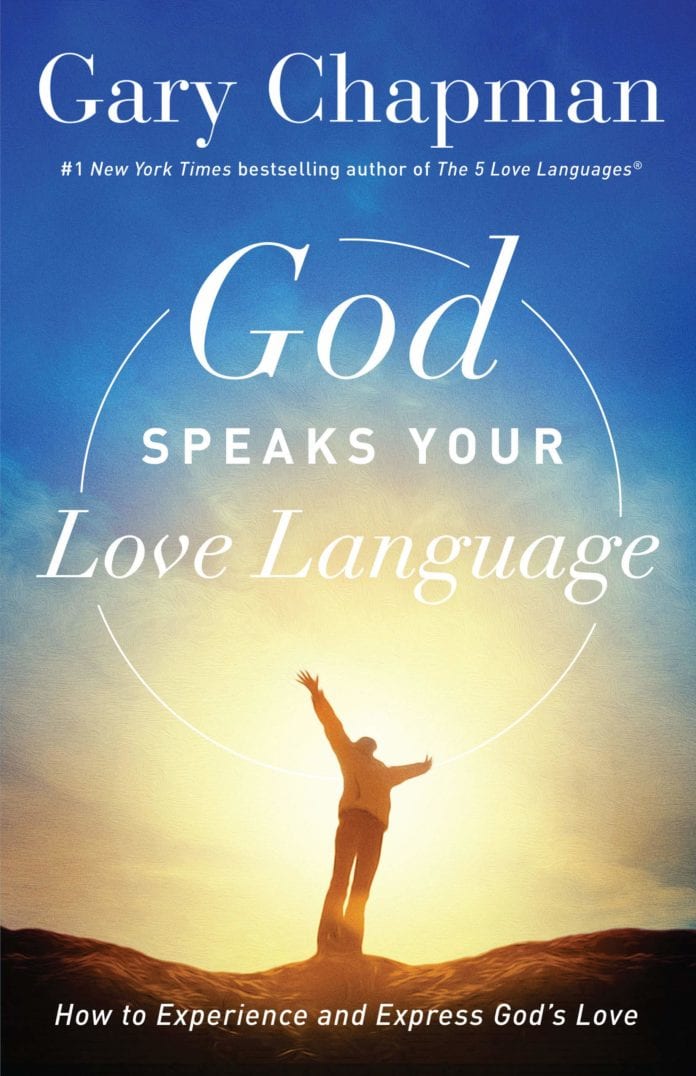 Gary Chapman: How to Experience and Express God's Love
God Speaks Your Love Language
How to Experience and Express God's Love
(Moody, 2018)
WHO: Gary Chapman, director of Marriage and Family Life Consultants Inc.
HE SAYS: "By understanding the dynamics of human love, we can better comprehend the expressions of divine love."
THE BIG IDEA: Learn how you can give and receive God's love through the five love languages: words of affirmation, quality time, gifts, acts of service and physical touch.
THE PROGRESSION:
Revised and updated, this book walks readers though each of the five love languages, shows how God speaks through each one, helps readers discover their primary love language and encourages them to try a new dialect of their primary language by sharing multiple ways each love language can be expressed to God.
"God speaks each person's love language fluently. After all, he created us. He formed us in our distinct individuality. Why would he not speak to us in our own 'language'?"
Order this book from Amazon.com »

A CONVERSATION WITH GARY CHAPMAN
What are some of the different languages or ways we experience God's love?
In my counseling practice, I discovered that what makes one person feel loved does not make another person feel loved. In short, we have different love languages. Therefore, is I want my wife to feel loved, I must discover and speak her love language. The five languages that are most common are words of affirmation, acts of service, gifts, quality time and physical touch.
People asked me what is God's primary love language? As I searched the Scripture I discovered that God speaks all five languages fluently. However, when I looked at various conversion experiences, I saw a parallel between a person's love language and how God spoke to them. For example, if physical touch is a person's love language, they will likely have a dramatic conversion experience like Paul on the road to Damascus. They will say such things as, "Just started weeping and body started shaking. I felt God's arms around me." While a person with quality time as their language would likely have a much different experience. Thus, we should not seek to compare our conversion experience with others.
How could pastors use your new book to help their congregations grow closer to God?
First of all, we are God's hands and feet. He uses us to point people to Christ. So, if we can teach our people that people have different love languages and will most likely see Christ in us when we speak their love language it will enhance our efforts in pointing people to Christ.
Also, after we become followers of Christ, we tend to express our love to God in our primary love language. The Acts of Service person will be the first to volunteer to work in the soup kitchen. The Quality Time person will feel closer to God when they are having a daily "quiet time" with God. If receiving gifts is one's love language, they will freely give to help others in the name of Christ. This is their most natural way of expressing love to God.
Again, we must not judge our fellow believers because they are not expressing love to God in the same manner that we do.
The book also warns against falling in spiritual ruts where we simply do the same things over and over without even thinking about what we are doing. Our expressions of love have turned to mundane acts or words. The challenge is to learn some new dialects of your love language. I share ideas in the book. Then we can enhance our spiritual life as we learn to speak some of the love languages that are not so natural for us. The more languages we learn to speak the more useful we are in the hands of God.
Why do you think so many people feel disconnected from God?
Likely because God has not given them what they desired. They prayed for healing and it did not happen. They served God expecting him to bless them in a particular way, and he did not. Most of our expectations are self-centered. We are thinking about what God should do for us. Genuine love is focused on what we can do for others in the name of Christ. Happiness is the by-product of serving others. Asking God to pour his love into our hearts is a prayer that God will answer (Rom. 5:5).