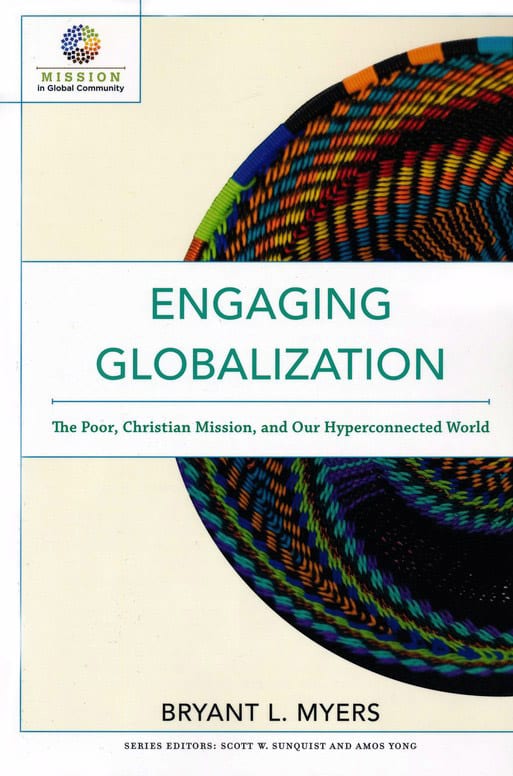 Bryant L. Myers: The Poor, Christian Mission, and Our Hyperconnected World
Engaging Globalization
The Poor, Christian Mission, and Our Hyperconnected World
(Baker Academic, 2017)
WHO: Bryant L. Myers, professor of transformational development in the School of Intercultural Studies at Fuller Theological Seminary.
HE SAYS: "The intent of this book is to introduce the subject of globalization to students, pastors and church leaders, to invite them to go before God and seek their individual and collective callings to be faithful witnesses within the sprawling and complex world of 21st century globalization."
THE BIG IDEA: The complex forces of globalization are shaping the world, influencing how we reach out to those who don't yet know Jesus. Loving God and loving our neighbor require a new vision, which requires a reexamination of good secular theories. The church has different possible missional roles that require an updated perspective on globalization as a whole.
THE PROGRESSION:
Section 1 sets the stage by presenting the author's thesis, how it will be discussed and the foundations the support it.
Section 2 introduces globalization, from the problems of definitions to its ambiguities.
Section 3 delves into the different eras of globalization, exploring their history and their impact.
Section 4 thoroughly examines the impact of globalization, from economic changes to the development of technology.
Section 5 is a thoughtful look at how the poor worldwide are influenced by globalization.
Section 6 concludes with "Globalization and the Church," which discusses the theological limitations of globalization, the missiological challenge on the table and how the church should engage with globalization.
"The multifaceted and complex world of globalization requires an equally broad family of Christian responses."
Order this book from Amazon.com »
Read an excerpt from this book »
A 2018 OUTREACH RESOURCE OF THE YEAR—MULTICULTURAL CATEGORY
"Myers reimagines globalization and its subsequent influence on the crucial missional issues of the church such as migration, creation care, justice and compassion, power and development. At the same time, he emphasizes that our omnipotent God is in the midst of globalization and is still very much in control."
Evaluated by Robert L. Gallagher, the department chair and associate professor of intercultural studies at Wheaton College Graduate School, where he has taught since 1998.