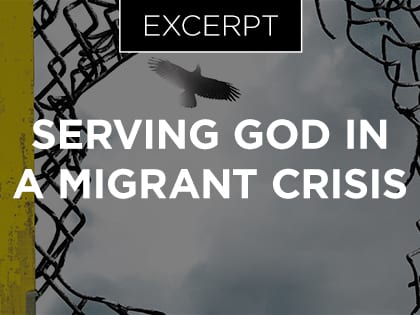 These methods for reaching out to immigrants and refugees can go a long way toward making them feel welcome.
Excerpted from
Serving God in a Migrant Crisis
By Patrick Johnstone with Dean Merrill
Here are some options (certainly not all) for connecting with new arrivals. (It goes without saying that all of these options need to be offered free, since the people we seek to touch have minimal funds).
1) Language classes/tutoring. If migrants need to make a change from their mother tongue, this need is obvious. The quicker they can grasp basic English (or German, Swedish, Dutch, whatever), the sooner they will be able to find employment and navigate the many other challenges of daily life.
To gain citizenship, knowledge of the local language is almost mandatory. The United States, for example, requires all applicants to pass an English examination (unless the person is elderly and has already lived in the country for 15 or more years).
2) Mother-and-toddler groups. All across the globe, mothers with little ones naturally gravitate to each other. What better way to pull an immigrant woman out of the shadows than by offering a warm and inviting place for her to socialize with others at her station of life?
3) Job guidance. Helping the new arrival through the maze of employment listings, workforce centers, and online opportunities can be a huge help. Young women who arrive hoping to find work as au pairs or nannies need assistance in knowing where to look—and how not to be taken advantage of.
Some migrants arrive with professional qualifications—nurses, teachers, lab technicians, to name just a few—but they must prove their credentials to new (and often skeptical) gatekeepers. Otherwise, they will not be allowed to use their talents in the new place. What a relief to have a church friend alongside them during this challenging process. If further education is required, the local friend can point out where to get it and how much it will cost.
In addition, some church members who own businesses or have hiring authority in their companies may be positioned to offer employment directly to the new arrivals. This gives them the added blessing of working for a Christian boss.
4) Sports teams and leagues. Any activity that involves a ball will quickly serve as a magnet for migrant young people. They don't need to know the language so long as they can get onto a field, pitch or court with others their age. Within minutes they feel welcomed.
5) Legal guidance. This is a paramount need for refugees, obviously. And the field can be even more confusing and obtuse than searching for a job. It is hardly fair for any Christian to complain about undocumented immigrants if we are not willing to help them sort out their cases, find the proper government paperwork, fill it out correctly and get the documents they need.
Several denominations and groups in the United States have banded together to form The Immigration Alliance, equipping local churches to provide fair, trustworthy counsel on everything from applying for legal status to determining eligibility for health benefits to dealing with the police if victimized by crime. The Alliance provides rigorous training so that local church volunteer paralegals know what they're talking about and can guide clients suitably. For more information, go to: TheImmigrationAlliance.org.
Meanwhile in the UK, Churches Together in Britain and Ireland (CTBI) have stimulated much activity in negotiating with governments and encouraging city-wide initiatives to welcome refugees. To learn more, see: https://ctbi.org.uk/how-the-churches-are-responding-to-the-refugee-crisis.
6) Temporary housing. When Pope Francis called for every Catholic parish to take in a refugee family—starting at the Vatican itself—I thought it was a courageous challenge. Many Protestant congregations have done this as well. In fact, every congregation should ask itself, "What about us?"
Space may be available in some church buildings themselves. If not, what else is nearby at an affordable cost? The point here is not to provide permanent residence; it is rather to simply offer shelter in the current moment of need.
7) Special holiday events. Churches can invite immigrants to parties that celebrate, for example, New Year's Day, Thanksgiving or another national holiday, with games for the children and simple explanations for the adults for why this day is meaningful in the culture.
8) Social invitations to homes. Immigrants naturally wonder how we actually live day to day. Nothing quite says welcome like being invited to the home of a Christian. It speaks volumes about openheartedness and good will. The conversation that flows in an evening spent together around a table can pay immeasurable benefits.
International students especially crave this kind of welcome. Yet, according to one study, 80 percent of these who graduate from United States colleges have never been inside an American home.
Those who do get invited for true Christian hospitality can find it to be life-changing, or at least assumption-changing. Even if they do not convert to our faith, they go away with a positive impression.
Tell me more about this book »
Order this book from Amazon.com »
Excerpted from Serving God in a Migrant Crisis by Patrick Johnstone and Dean Merrill. ©2018 by Patrick Johnstone and Dean Merrill. Used by permission of InterVarsity Press, P.O. Box 1400, Downers Grove IL 60515-1426. IVPress.com