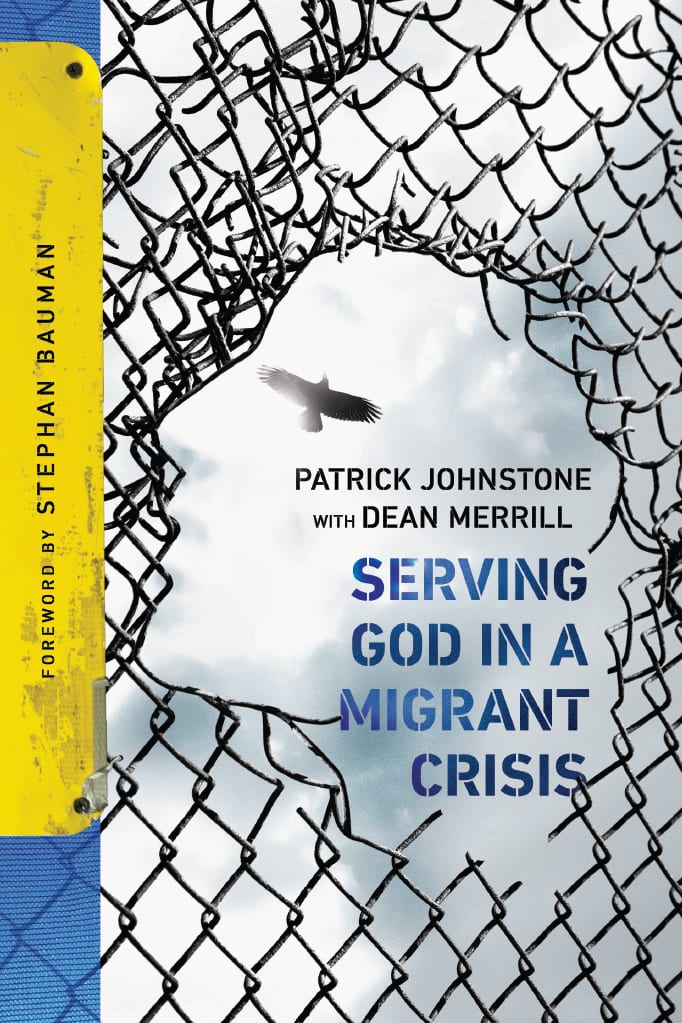 Patrick Johnstone with Dean Merrill: Ministry to People on the Move
Serving God in a Migrant Crisis
Ministry to People on the Move
(IVP, 2018)
WHO: Patrick Johnstone, author of Operation World, with Dean Merrill, author or co-author of more than 40 books.
THEY SAY: "The world is undergoing a transformation, and Christians are wondering what to do. Some are rolling up their sleeves and getting involved. Others want to run and hide. I have news for you. It's going to get worse before it gets better."
THE BIG IDEA: Christians who want to seek God's leading during this migrant crisis will be helped by factual data, biblical insights and action steps.
THE PROGRESSION:
Part 1, "What's Going On,".
Part 2, "What to Know,".
Concluding with Part 3, "What to Do," the authors offer examples of what individuals, local churches, Christian agencies and the global body of Christ can do to help address migrants' short- and long-term spiritual, physical and social needs.
"Today, as millions of God-followers (along with those who don't believe) are on the move, we need to remember our heritage. God has used migration for millennia to achieve his purposes for his people. He is doing so again in our time."
Order this book from Amazon.com »
Read an excerpt from this book »
A CONVERSATION WITH PATRICK JOHNSTONE
What should pastors tell their congregations about ministering to migrants, especially if the people hold different political viewpoints on immigration?
The whole issue of how governments handle the migrant crisis is controversial and even divisive for Christians too. This should not cripple us in the application of our biblical values of welcoming the stranger in our midst, nor justice in the treatment of those who come to our homelands. So whatever our views we must love and welcome them.
Welcome. A few years ago our local church in UK started a project to give a welcome box to every new migrant that came to our city. This contained a few appropriate gifts and offers of help with language, lodging, relating to the authorities, etc. Often we were the first of the indigenous civilian population to meet and greet them. A high proportion of these had subsequent contacts with various aspects of our fellowship and services we offered, and quite a number have come to Christ as a result. This has been so successful that we have set up a new organization to help other churches initiate a similar program. So today about 200 of the 800 linked to our church fellowship are of migrant communities, the majority being former Muslims.
Justice. Sadly the way our governments handle migrants is often insensitive and even harsh and cruel. It seems to me that if a person has a special skill or lots of money they can become (eventually) legal migrants and obtain the "leave to remain" document or a green card. However if you flee terrible suffering and conflict or economic disaster without these, you become "illegal." This pejorative label then seems to justify harsh treatment. This is not something we Christians can ignore. I am constantly hearing the stories of refugees who fled terrible situations, then had a traumatic escape and journey only to meet inhumanity and indifference in the countries to which they flee. Whatever our general views on the rightness of migrants coming to our country, we must not ignore unfairness or inhumanity on the part of the local and national authorities and even speak out on their behalf.
How do you see migrants impacting the church over the next 10 years?
The 21st century is the first majority urban century ever and most growing cities in the world are becoming increasingly multicultural. There is the pressure of a generation before us of conflict and distress in the Muslim world and Africa together with a rising water crisis and a developed world population vacuum due to low birth rates and multiplied retirees. Those refugees are going to come whatever physical and legal barriers are erected.
So whatever our views on migration in principle, we still need to ensure our church congregations are a good reflection of the composition of the population in its local area. Each congregation has to basically choose to be either a Jerusalem church with its racial discrimination, cultural isolation and introspection that retreats to the suburbs or an Antioch church with multicultural missionary-sending vision that blessed the world. This will need humility, gut-wrenching change and a Kingdom culture that trumps localisms.
What advice do you offer small churches that believe they can't do very much practically for migrants?
Prayer is fundamental. Let us get back to "Thy Kingdom come!" prayers in the light of Jesus' last command in Acts 1:8. Ask the question, "Does my congregation reflect the percentage of every ethnic and language population in my local area?" If not, ask God what to do about it.
Look to see if there are any refugees (Samaritans) that have been placed or found a home in your local area. Have you welcomed them? This is why a plan such as Welcome Boxes is a helpful beginning. If you do this you will almost certainly be welcomed in to their home and given hospitality. Out of those initial friendships much can blossom.
Has your pastoral team or pastor any training or experience in cross-cultural work? When calling or appointing new leadership, ensure this is one of the prerequisites you list. Sadly many theological institutions provide training for pastors that does not include this, ill fitting them for future ministry that will be, of necessity, multicultural.