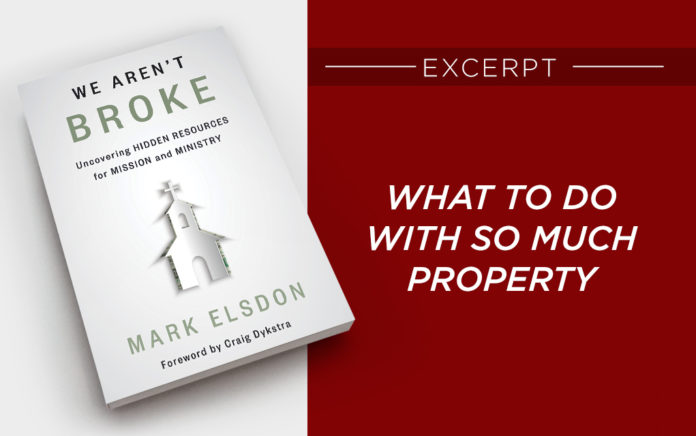 Excerpted from 'We Aren't Broke' (Eerdmans)
Excerpted From
We Aren't Broke
By Mark Elsdon
Consider a scenario from Madison, Wisconsin, where I live and work:
A few years ago our local presbytery had to close a church in the city. The lovely and faithful congregation had reached the end of its life, and it was time to celebrate the fruitful ministry of many decades and close the church. The building was sold to a local Muslim community, who have made it their home—a wonderful sharing of sacred space with our neighbors. The funds generated by the sale of the building (almost $1 million) were then given away to charities that members of the congregation cared about over the years. One of those charities was Pres House. We received a very helpful gift from the sale that we put to work in the lives of college students. Other charities in town also received generous gifts that helped them provide food, shelter, and other vital needs to members of the Madison community. The congregation left a beautiful gift for many.
But I have wondered since that time, what if we, the presbytery, had not given that $1 million away? As much as I was grateful as a nonprofit leader to receive some of the proceeds of the sale of the church, I wonder if we could have used those funds differently. What if we had used that money as seed funding for a permanent, revolving loan fund to help build affordable housing in the neighborhood around that church? Affordable housing is a very pressing need in Madison, as it is elsewhere in the country. It is particularly needed in the location where that church had operated. But funding to complete such projects is difficult to come by. Imagine what a powerful legacy that church, and our presbytery, could have left if we had invested that money in a housing project that would have provided affordable living space for people in Madison while generating a small financial return. The initial $1 million could have been used to help build a facility and then eventually the investment returned to the presbytery, with interest, to use again for more housing. The money would be at work over and over again, helping to transform our community.
But even more important than retaining the initial capital, and earning interest on the investment, is the impact such a project could make in our community. Churches, and the charities that benefited from the gift upon the sale of the building, spend a lot of time, money, and energy working to meet the needs of people in our community who live in substandard housing. A lack of quality, affordable housing has a negative ripple effect throughout the community. When a child comes "home" from school to sleep in a car at night, as too many kids in Madison do, he or she is going to struggle to get homework done and succeed in school. Moving frequently creates stress for children and hampers educational achievement. "When families pay too much for housing, they have less money left over to spend on their other needs, including food, clothing, childcare and health care. If other income or housing options are unavailable, families are forced to make difficult tradeoffs among those basic necessities to meet housing expenses." These are some of the problems churches and charities are seeking to solve. Investing in affordable housing is one way to address root problems that cost a great deal in dollars and quality of life.
We cannot change what happened with the $1 million generated by the sale of that church in Madison. And I am sure the charities who received the money did important work with it. But that shouldn't stop us from reexamining how we could more effectively make change in our communities. Imagine a community where a collection of churches has an aggregate of $1 million of endowment money invested in traditional investments. The collective returns on that $1 million might average 5 percent annually. That amounts to $50,000 of investment earnings each year. Imagine that they gave all of it away to help address the negative outcomes caused by a lack of quality affordable housing in their community. That would be fantastic.
But now imagine if this same collection of churches came together to create a $1 million affordable housing fund from their endowments or investments. Such a fund could help close financing gaps and catalyze the building of affordable housing where it might not otherwise happen. Not a donation, this money would stay in service and be recycled over time, allowing for the creation of multiple housing projects. Rather than helping Facebook and Google grow their businesses, the money would be put to work helping house people in need of quality, affordable places to live. The churches would have an enormous social impact and earn some modest financial return on their investment. Now, instead of simply giving money away to help meet ongoing symptoms created by a lack of housing, these churches would be engaged in addressing the root causes of those needs by helping to provide a more permanent, long-term solution. Rather than just $50,000 per year buying some assistance, they have now put the whole $1 million to work solving problems.
But what if we went even a step further? What if they used that money to help build affordable housing on another church property? What if one church provided the property and others provided the investment? In that instance, all three elements could have come together: mission, money, and property. Mission: meeting a vital community need for affordable housing and transforming lives and neighborhoods. Money: putting money to work as an impact investment in a revenue-generating social enterprise. Property: providing the land on which to build that social enterprise. I can imagine numerous areas of the country where a model like this could work. Some churches could be sold to generate investment funds for other churches to launch social enterprises on their property. In this way the capital assets multiply upon each other for greater impact.
There is a lot of underutilized and soon-to-be-sold property out there. There will be grief and sadness as so many churches close in the coming years. Of this there is no doubt. Just as when a loved one dies, we must allow ourselves the space to celebrate past joys and mourn our losses.
At the same time there is also an incredible opportunity to reimagine how church property could be used for innovation and transformation during this unprecedented time of assets in transition. For even as the changes and closures come fast and furiously, we aren't broke. Death, and resurrection, is central to the Christian faith. Just as the cycle of death and life turns fallen leaves into spring flowers, the closure of churches provides space and fertilizer for new growth to spring up. The closing and selling of churches will free up millions of dollars of "new" money and unused property in the next decade. Shifting the primary use of a church property from Sunday services to coworking space that creates community is not failure—it is transformation. Supplementing income and mission activity by turning an unused education wing of a church into a grocery co-op that addresses a neighborhood food desert is not failure—it is innovation. Closing a congregation after many years of fruitful ministry, tearing down the church building, and repurposing the property for affordable housing is not failure—it is rebirth. We may grieve the changes. We should celebrate the past. But let us also look forward to new life and what God will do through us next.
Order this book from Amazon.com »
Adapted from We Aren't Broke: Uncovering Hidden Resources for Mission and Ministry by Mark Elsdon ©2021 (Wm. B. Eerdmans Publishing Co.) Reprinted by permission of the publisher.