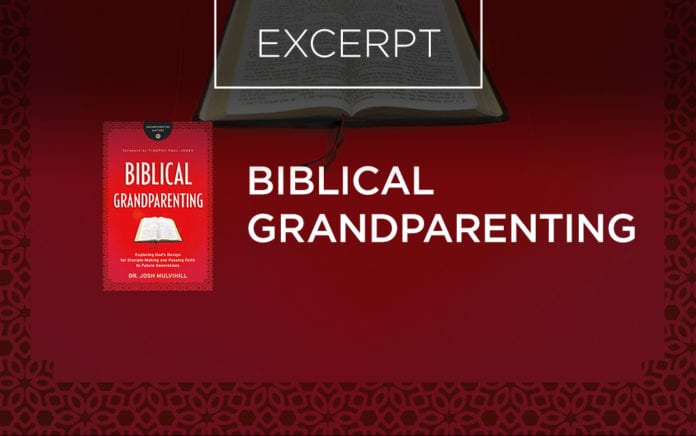 What does the Bible have to say about the role of grandparents?
Excerpted From
Biblical Grandparenting
By Josh Mulvihill
God's Plan for Grandparents
Every member of the family is given a clear, God-ordained role in Scripture that is not interchangeable with other members of the family. Husbands are referenced as the head of the home and are to lovingly lead their family (Eph. 5:23). Wives are given the role of helpmate and are to willingly follow their husband's leadership (Gen. 2:18; Eph. 5:22). Children are told to honor their parents through obedience (Ex. 20:12; Eph. 6:1).
If the Bible clearly defines the role of family members, is it possible that it also defines the role of grandparents? This question has been one of the focal points of my PhD dissertation and multiple years of study. The Bible has hundreds of references that directly or indirectly speak to grandparenting. Phrases such as children's children, son's son, father's father, old age and forefathers help us understand the place and purpose of grandparents in the home.
Although the Bible is clear about the role of grandparents, American culture is not, and many Christians have unintentionally adopted this unbiblical view of grandparenthood. Generally speaking, in American culture there is confusion concerning the meaning and purpose of a grandparent's role. Gunhild Hagestad, contributor to Grandparenthood, says, "There is new uncertainty about what it means to be a grandparent and what grandparents are supposed to do."
Cultural Messages About Grandparenting
America has created its own role for grandparents, and it is known to scholars as "the new social contract." The core values of the social contract include non-interference by grandparents, emotional independence from children and personal autonomy. Families unconsciously operate according to the agreement that children will grow up, move away, start their own family and become independent from one another. Experts encourage families to aim for closeness at a distance, but what they gain is lonely, overburdened and disconnected families. The social contract has amputated generations from one another and left countless grandchildren as grand-orphans who do not have the intimate influence of a grandparent in their life.
Because the role of grandparents is not clearly defined by American culture, it is viewed as an extra, nonessential role to the functioning of the family or the growth and development of grandchildren. Grandparents themselves fear meddling in their children's and grandchildren's lives. While relationships that do exist can be very positive, their limited and tenuous nature removes grandparents from the central hub of family life and places them on the periphery with a minimal impact.
Over the past one hundred years, society has redefined family with a focus on emotional-companionship. One manifestation of this change is found in children's literature about grandparenthood. A few notable titles of children's books include Grandmas Are for Giving Tickles and Grandpas Are for Finding Worms. The children's book What Grandpas and Grandmas Do Best suggests that grandparents are for playing hide-and-seek, singing a lullaby, building a sandcastle and playing games. In Grandma, Grandpa, and Me, grandparents are to play with, work alongside, and have fun with. Children's literature speaks of a grandparent's role as playmate and companion.
Grandparents adjusted their value system based on the place and purpose society gave to the elderly and defined their involvement with family around the two roles of independence and indulgence. Values shifted from leaving a family legacy and financial inheritance to pursuing a pleasant retirement experience. A bumper sticker occasionally seen on the car of elderly people captures this well: "We're spending our children's inheritance."
Society has lost its compass regarding why the generations should interact, how to do so and what responsibilities they have to the other. My research revealed that two out of three Christian grandparents operate according to three cultural guidelines: (1) adult children expect non-interference, (2) the primary role for grandparents is emotional-supportive and (3) a high value is placed on encouragement and companionship. The majority of Christian grandparents interviewed for my study did not know what the Bible says about grandparenting. In fact, low numbers of grandparents referenced the Bible as they talked about their role. Christian grandparents need a renewed biblical vision regarding their role in the family and purpose in society.
Tell me more about this book »
Order this book from Amazon.com »
Excerpted from Biblical Grandparenting by Josh Mulvihill. Copyright 2018. Published by Bethany House, a division of Baker Publishing Group. BakerPublishingGroup.com