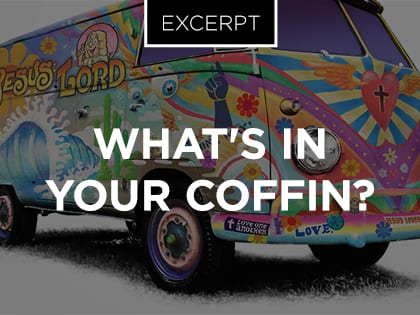 It's time to bury the cultural practices and idols that have subtly become part of the American church's DNA.
Excerpted From
Jesus Revolution
By Greg Laurie and Ellen Vaughn
In October 1967, when the hard-core hippies of San Francisco's Haight-Ashbury conducted their mock "funeral for the hippie," it wasn't just a groovy happening or a public relations stunt. Hippies weren't much into public relations. The funeral was an ironic rejection of the commercialization that had taken over their once-unadulterated movement. In the beginning, people were coming together to embrace deeply held hippie values. Now it had turned into a circus. Tour buses were canvassing the Haight; middle-aged tourists were snapping photos with their Kodaks and buying hippie gear.
Dismayed by such consumerism, the organizers of the hippie funeral also wanted to dissuade kids who were belatedly looking for the San Francisco experience as their way to climb on the hippie bandwagon.
"We wanted to signal that this was the end of it, to stay where you are, bring the revolution to where you live," explained one of the funeral organizers. It's not a perfect analogy—and it's only an analogy—but a half century later, maybe it's time for Christians to conduct a similar funeral. It would be a burial of what we might call enculturated Christianity, a blending of commercial and consumer values with the gospel we once embraced on its own. Maybe it's time to bring the Jesus Revolution back to where we live.
The hippies of '67 packed their fake coffin with trappings like bongs, love beads and incense. The fake coffins for the funeral of enculturated Christianity would likely have different contents.
Maybe we should have special services and solemnly carry coffins up the aisles of our churches, or place them on the stages of our worship centers and fill them with all the stuff that we've unconsciously attached to our understanding and practice of Christianity, stuff that is just not part of the gospel. There might be physical things we need to give up; things to which we've become addicted. Maybe there would be some bongs, or prescription drugs, or alcohol, or food or pornography.
But most of the ugly coffin space would be needed for attitudes and habits of the heart. It might be a set of unconscious racial or ethnic prejudices that we've absorbed from our upbringing, biases that have nothing to do with the radical realities that Jesus taught and demonstrated.
For others of us it might be the assumption that God helps those who help themselves, and that Christianity is about pulling ourselves up by our own bootstraps to gain position and success—good old American individualism that judges and excludes the weak. It might be a condemning attitude toward outsiders, toward those who are not "just like us." It might be the assumption that God wants us to be materially wealthy, healthy, safe and comfortable. It might be a long held assumption that God is a Republican. Or a Democrat. Or an Independent.
The point is, each of us has different idols that subtly come from the culture around us, idols that we spin and polish so we can incorporate them into our nice religious experience. An "idol" is anyone or anything that takes the place of God in our lives. Throwing away such things has been a struggle for believers since the beginning. New believers in ancient times used to bring their household idols and other objects that were part of their pre-Christ life, and cast them into huge bonfires. In rural villages in Asia and Africa, new believers still do the same today. Even in our sophisticated culture—especially in our sophisticated culture—the world, the flesh and the Devil get hold of our minds and affections so easily. And the next thing you know, we've figured out a way to accommodate their influence. When that happens, it's time for a new revolution.
What would funerals of enculturated Christianity look like? The answers are as varied as the hundreds of thousands of churches across America. The idea is not meant to be prescriptive; it's simply a question for corporate communities of Christ followers to answer as the Holy Spirit gives conviction. It's certainly no new message that the American way of life has an insidious way of corrupting the purity of our understanding and practice of the gospel.
In the 1950s and '60s, many churches needed to repent of knee-jerk racist attitudes. It's our human tendency to be jerks, so it's no surprise that some of us might need to do the same today.
In Chuck Smith's Costa Mesa church in 1970, his congregants had to bury their prejudice against hippies who looked and smelled different from them. Today that might mean that some of us need to bury our bias against various ethnic groups, migrants, refugees, addicts … all kinds of people in need.
There are regions where faith becomes "churchianity," woven with social standing, family heritage and cultural expectations. There's left- or right-leaning politicized faith of every kind, which blurs and distorts a biblical understanding of the kingdoms of this world and the mysterious and transcendent ways of the kingdom of God.
In some megachurches today, there's been an easy drift toward style over substance, where such accoutrements as smoke machines, slick production values, lattes in the lobby and sermons designed for short attention spans take precedence over the transformational power of the Word of God. It's devilishly easy for market preferences to shape the message itself, sublimating the radical, absolute and ancient distinctives that make the church the church.
There's also that tendency, in churches both large and small, to seek growth for growth's sake. That can result in the priority of maintaining a building or a complex, so then a certain capital budget must be met at all costs, otherwise known as "feeding the elephant." It's so easy to lower our standards in order to extend our reach.
If we produce consumers instead of communers, we end up with customers instead of disciples. This can create a whole new category of people: evangelized nonbelievers, or people who think they are Christians when they aren't.
They've lived in a church that is so accommodating that the gospel is compromised, and people become hardened to the very truth that could transform and revolutionize their lives.
Enculturation is no new threat. It's been the subtle enemy of the church since its beginnings. The apostle Paul pled with the early Christ followers to renounce cultural prejudices, the love of money, sexual accommodations and the love of power. We need to continue to be diligent two thousand years later, on watch and ever ready to bury the usual suspects.
What's in your coffin?
Tell me more about this book »
Order this book from Amazon.com »
Excerpted from Jesus Revolution by Greg Laurie and Ellen Vaughn. Baker Books, a division of Baker Publishing Group. Copyright 2018. Used by permission. BakerPublishingGroup.com