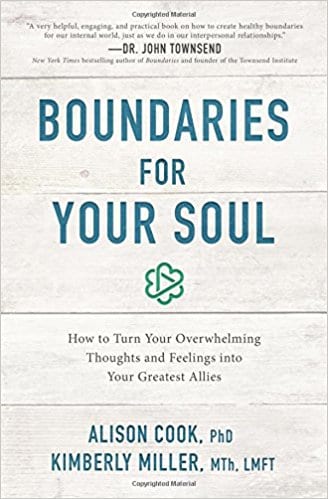 Alison Cook and Kimberly Miller: How to Turn Your Overwhelming Thoughts and Feelings into Your Greatest Allies
Boundaries for Your Soul
How to Turn Your Overwhelming Thoughts and Feelings into Your Greatest Allies
(Nelson Books, 2018)
WHO: Alison Cook, a psychologist who specializes in integrating spiritual formation and psychology, and Kimberly Miller, a Christian counselor.
THEY SAY: "When you practice Spirit-led self-leadership, you're cultivating an internal garden that helps the wild and magnificent parts of you grow together in a peaceful and integrated way."
THE BIG IDEA:This book provides a plan based on the Holy Spirit to create internal peace by recognizing overwhelming emotions are helpers that have gone beyond their original roles.
THE PROGRESSION:
Part 1, "Reimagining Your Soul," demonstrates how parts of our soul can be too close or too far. The first chapter ends with a quiz to help readers pinpoint their strengths and weaknesses.
Next, the book looks at the Spirit-led self, capable of leading thoughts and feelings. Specific challenges that arise in our internal world are explored. The authors then identify three categories in the soul and equip readers to lead and care for these parts more effectively.
Part 2, "How to Take a You-Turn," presents a five-step process to help readers bring together what they know of God with all they are experiencing. They learn how to focus, befriend, invite God to be with, unburden and integrate the parts of the soul.
Part 3, "Working with Challenging Emotions," teaches how to apply the five steps to specific emotions, such as anger, shame, sadness, fear and anxiety.
"Just as you can experience a more peaceful life as a result of healthy boundaries with others, so you can establish helpful boundaries with the parts of your soul."
Order this book from Amazon.com »
Read an excerpt from this book »