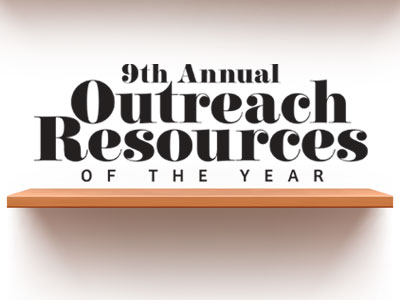 The experts who selected the best outreach-oriented resources in their fields
To identify the Outreach Resources of the Year, Outreach magazine enlists an expert panelist in each category to evaluate the resources submitted in that category and choose the best. With sincere thanks for the time and expertise they gave to this effort, we present the panelists who selected the 2012 Outreach Resources of the Year:
EVANGELISM

Evaluated by Bryan Loritts, lead pastor of Fellowship Memphis in Memphis, Tenn.; a member of the board of trustees for Biola University; a member of the creative team of The Origins Project, an evangelistic network; and author of A Cross-Shaped Gospel: Reconciling Heaven and Earth. Twitter: @BCloritts.
APOLOGETICS

Evaluated by Sean McDowell, head of the Bible department at Capistrano Valley Christian Schools, where he teaches philosophy, theology and apologetics; and author, co-author or general editor of numerous books, including Apologetics for a New Generation (a 2010 Outreach Resource of the Year), Understanding Intelligent Design (a 2009 Outreach Resource of the Year), Is God Just a Human Invention? and GodQuest. Twitter: @Sean_McDowell.
LEADERSHIP

Evaluated by Bill Easum, a longtime pastor and church consultant and founder of 21st Century Strategies; recipient of the 2009 Donald A. McGavran Award for Outstanding Leadership in Church Growth; author or co-author of many books, including Preaching for Church Transformation, Ministry in Hard Times and Go Big: Lead Your Church to Explosive Growth. Twitter: @Easum.
CULTURE

Evaluated by Andy Crouch, author of Culture Making: Recovering Our Creative Calling, a 2009 Outreach Resource of the Year; a member of the editorial board of Books & Culture magazine; executive producer of the This Is Our City project about Christians seeking for their cities to flourish; and a special assistant to the president of Christianity Today International. Twitter: @AHC.
MISSIONAL CHURCH

Evaluated by Tim Stevens, executive pastor of Granger Community Church in Granger, Ind., a missional church, and author of Pop Goes the Church: Should the Church Engage Pop Culture? Twitter: @TimAStevens.
MISSIONAL LIVING

Evaluated by Todd Engstrom, pastor of missional communities at The Austin Stone Community Church in Austin, Texas. Twitter: @Toodus.
PASS-ALONG RESOURCES

Evaluated by Vince Marotte, Internet pastor at Gateway Church in Austin, Texas; a communication designer and Internet consultant; and author of Context & Voice: Communication Design in Our New Media Culture. Twitter: @M_Vince.
SMALL GROUP CURRICULA

Evaluated by Mark Howell, community life pastor at Parkview Christian Church in Orland Park, Ill., and founder of SmallGroupResources.net, coaching and consulting with churches to help them build and sustain healthy small group ministries. Twitter: @MarkCHowell.
CROSS-CULTURAL

Evaluated by Outreach columnist Mark DeYmaz, founding pastor of Mosaic Church of Central Arkansas; executive director of the Mosaix Global Network, a relational network to catalyze the multiethnic-church movement; author of Building a Healthy Multi-ethnic Church (Jossey-Bass); and co-author, with Harry Li, of Ethnic Blends (Zondervan). Twitter: @MarkDeYmaz.
COMPASSION AND JUSTICE

Evaluated by Kevin Palau, president of the Luis Palau Association based in Portland, Ore., where his responsibilities include leading Season of Service, which mobilizes the church to meet urgent community needs in cities around the world. Twitter: @KevinPalau.
BIOGRAPHY

Evaluated by Jeanette Thomason, a freelance writer and editor of WhiteStone Publishing; former editorial director of WaterBrook Press; and former acquisitions/special projects editor at Baker Publishing Group. Twitter: @MyJoeToGo.
CHILDREN'S OUTREACH

Evaluated by Amy Dolan, founder and leader of Lemon Lime Kids, a children's ministry consulting company in Chicago, and former executive director of children's ministries for the Willow Creek Association. Twitter: @ADolan.
And Sandy Riggs, the Children's Pastor for grades four and five at Willow Creek Community Church in South Barrington, Ill.
YOUTH OUTREACH

Evaluated by Russell St. Bernard, youth minister at Reid Temple AME Church in Maryland; youth ministry trainer, mentor, blogger and consultant; and author of the e-book After The Music Stops: Effective Youth Ministry Beyond the Big Event. Twitter: @PastorRuss09.
Read the news release about the Outreach Resources of the Year process
View the list of the Outreach Resources of the Year