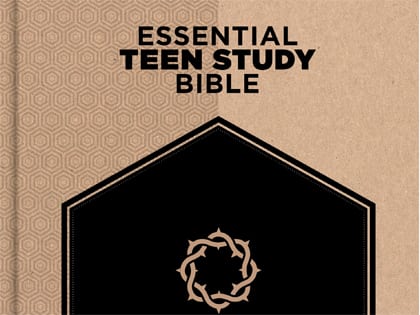 Holman Publishers: Essential Teen Study Bible
Resource of the Year: Youth
Essential Teen Study Bible (Holman Publishers)
This study Bible is a great tool for all students that will allow them to grow deeper in their faith and in Christ. Holman Bible Publishers has done a great job with the features in this Bible. Not only are there book introductions for each book of the Bible, there are also "memory verses" throughout this study Bible designed to help students learn and remember key verses in the Bible. This study Bible also includes "behind the story" sections throughout which are designed to help students have a better understanding of the context behind the Scripture and the story.
The features in this study Bible also include devotions for students, doctrine essentials, respond sections to help students apply the Bible passage and much more. As a youth pastor for over a decade and a youth ministry coach to other youth pastors and leaders, I am thankful for this Bible study tool and believe that it will be extremely helpful for students as they grow in Christ.
Also Recommended:
The Big Ten: A Quick-Access Guide to Ten Youth Ministry Essentials
By Scotty Gibbons (Salubris)
Scotty Gibbons does a great job pulling together a quick and easy reference guide for everyday life experiences that youth pastors and leaders deal with from dealing with funerals to budgeting and others.
This Means War: A Strategic Prayer Journal
By Stephen Kendrick and Alex Kendrick with Troy Schmidt (B&H)
The Kendricks do a great job in this journal—which is linked to their film War Room—of helping students build their prayer life by sharing Scriptures and asking questions plus pushing for action on behalf of the students to grow their prayer life.
EVALUATED BY RUSSELL ST. BERNARD, an Outreach magazine consulting editor, "Rev. Russ" (Instagram @RevRuss), has served in youth ministry for over a decade, authored several books, and is a youth ministry coach and consultant www.AfterTheMusicStops.org. Rev. Russ currently serves as the youth minister at Reid Temple AME Church.