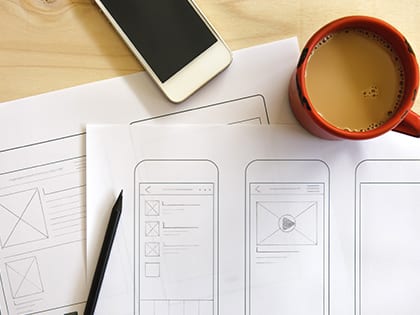 Creating a church mobile app is a significant investment. Here are things you should know before you sign on the dotted line.
Making an investment in a church app is a big decision. And I want to make sure you have as much information as possible to help your church make the best decision you can. So consider the following facts before signing on the dotted line:
1. Churches that succeed with digital media (and platforms like apps) generally do two things very well: They make informed decisions based on data, and they don't try to do too much.
2. If you're in the market for building a custom app, at the very least you should expect to spend $100,000.
3. Church apps are not custom; they are built using templates—this isn't a bad thing at all, but it's important to understand the difference.
4. The average mobile app from a church app company costs between $75–$200/month (sometimes with an added setup fee).
5. When a church website does its job, it can do everything a mobile app can do—and more.
6. Half of all time spent on digital media is spent on smartphone apps. Nine out of every 10 minutes of app usage on smartphones is spent on a user's top five apps, and 50 percent of all app time on smartphones takes place in an individual's single most used app (for most people this is Facebook).
7. Sixty percent of apps in the Google Play Store have been downloaded zero times. App discovery is down across several channels; one of comScore's key takeaways from their 2017 app report said this: "More signs of having reached 'peak app' are emerging as interest in new apps begins to wane."
Within the demographic of 35+, only 1 in 4 individuals download new apps more often than they delete/uninstall old ones. If that's not bad enough, 51 percent of smartphone users download no new apps every single month.
8. Push notifications in mobile apps are rarely enabled: Less than 1 in 5 people say that they always agree to an app's request to allow push notifications; in the 35+ age demographic this number drops all the way down to 1 in 20 people.
Push notifications annoy people: 71 percent of millennials say they get annoyed when they get too many app notifications; more than 50 percent of those older than 35 years old agree.
You can send push notifications for free without a church app using any of the major messaging or communication apps (Facebook, iMessage, Gmail, etc.).
9. Your church app could be shut down at any moment: Thankfully, church app companies skirted Apple's crackdown in late 2017, but Apple has the power to change the rules at a moment's notice.
10. Smartphone website audiences are 2.2 times larger than app audiences: Regardless of any trends, having a website is still much more important than having an app.
Adapted from "Church Apps: 11 Need-to-Know Facts Before Investing in a Mobile App." Used with permission of Nucleus.Church.