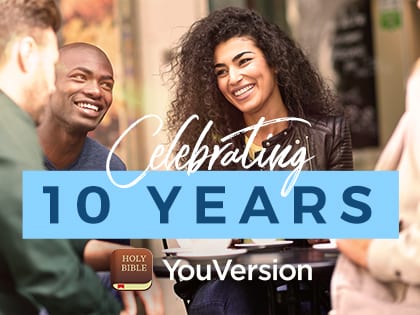 YouVersion, the most downloaded Bible, is celebrating the 10-year anniversary of the YouVersion Bible App. Since its debut as one of the first free apps available when Apple launched the App Store on July 10, 2008, the YouVersion App has been downloaded on more than 330 million devices and in every country of the world.
"We never could have predicted the results we've seen as millions of people around the world have read, listened to, shared and interacted with the Bible and each other in new ways," says Bobby Gruenewald, Life.Church pastor, innovation leader and YouVersion founder.
In the past decade, people have used the app to read 70 billion chapters of the Bible, listen to 12 billion audio chapters of the Bible, complete 4.2 billion Bible Plan days and make 4 billion highlights, bookmarks and notes. When the app launched, it had only 15 versions and two languages. Today it offers more than 1,700 different versions of the Bible, including Bible text in more than 1,200 languages.
The app has added social sharing and community features to increase daily engagement with the YouVersion community. The number of daily active users has increased by more than 30 percent compared to last year.
Future plans include Bible Lens, a new app that analyzes the objects in a photo and detects biblical themes to suggest the Bible verse that best fits the photo. Then, it automatically designs a high-quality verse image that can be shared with friends. Additionally, the app will have the ability to create images from photos saved in a person's camera roll.
"These last 10 years have been more than we could ask, think, or imagine, and we believe this is only the beginning," says Gruenewald. "As we look ahead, we're excited about the new ways God is using technology to help people make even more connections between the Bible and their daily lives."