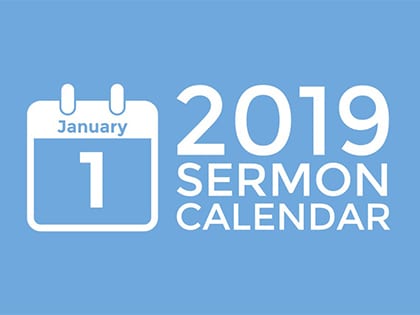 Get organized and save time by getting ahead on your sermon planning with this 2019 sermon calendar template.
To help pastors reduce their stress level and preach even better sermons, Pro Preacher has launched its 2019 Sermon Calendar. This tool helps pastors get organized and plan sermons in advance.
The calendar is a customizable spreadsheet that can be opened in Excel, Numbers or Google Sheets. It also is available in a PDF version that is useful for printing and filling in by hand. File options include United States holidays, no holidays or multiple sermons per week.
Pro Preacher offers a 100 percent, money-back guarantee. Customers have the option to bundle the 2018 and 2019 calendars for a discounted rate, or purchase only the 2019 or only the 2018 one.
Pro Preacher was created to provide tools and tips focused on helping every pastor become the best preacher they can be so that the church can reach more people for Jesus.
Customers who sign up can expect weekly preaching articles and sermon illustrations. Plus, they will get a free copy of The 7-Step Sermon Prep Checklist and nine sermon graphics.
For more information, visit ProPreacher.com.