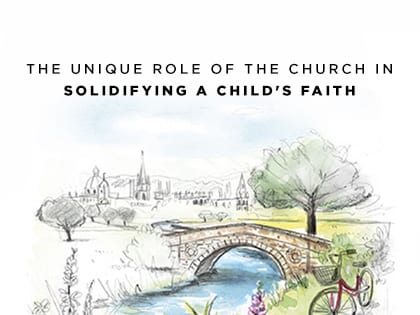 "I once overheard a friend say, 'It's a form of child abuse for parents to force their own religious beliefs on their children.'"
I once overheard a friend in Oxford say, "It's a form of child abuse for parents to force their own religious beliefs on their children."
This was so shocking to me. I had always been grateful to have been brought up by Christian parents. I had not felt abused because we read the storybook Bible at night and listened to Adventures in Odyssey on cassette tape. I felt loved because of these things.
I can see how someone who has not experienced the hope of the gospel might feel teaching Christian faith to children is imposing, maybe even harmful, but if you believe Jesus saves you, wouldn't it be wrong to not share that with your children?
Saying I'm a Christian because my father is a Christian was no argument for my atheist and agnostic friends in class, yet it was the argument I had those months in Oxford, maybe that entire year. It is the argument I have at times today when I feel God more closely and more intimately and I have a harder time disbelieving him than believing. Is it a weakness? To rely on the faith of those who have gone before us, to rely on the faith of our fathers? If you are like me, does it make us weak?
I used to think so. If we are all a bunch of people dependent on the faith of our fathers, who are dependent on their fathers, who are dependent on their fathers … then who actually believes? I would ask this and spiral into a dark and doubting place, push the thought aside, and try to move on with my day. It was one of those gnawing questions I was embarrassed to ask aloud.
Today when I think back on that year and see how desperately I clung to my faith inheritance, I don't see it as a hole or weakness. Instead, it reminds me of something: how Christians have always been since the beginning of the church. This reliance and dependence began to look like God's design for us, rather than a coping mechanism or a scrambling attempt at belief.
The early church began not long after Christ's death. The early church members were close to Jesus; maybe some had seen him pass through their towns or perform a miracle. Perhaps one guy told a few friends about his eyewitness account of Jesus, and then those friends multiplied into a crowd, which turned the first guy into their leader, their pastor. He was simply relaying what he knew to be true to those who then relayed it to others.
Until eventually, the church was just a group of people relying on each other, passing down information, remembering, believing, and encouraging. This is not weak or wrong. This is the church.
I don't think we're called simply to rely on each other for comfort during the hard times or guidance during the confusing times. We're called to rely on each other for faith in general. When we don't know why or how to believe, we ask someone who believed before we did, and they remind us again of what is true and what our ancestor's ancestor's ancestor saw.
I remember my atheist friend Ben making the argument with me that if Jesus was the Son of God, why did we all have to go to church every Sunday to remind each other of that? "Isn't that what church is?" he asked. "A bunch of people affirming each other in their beliefs. If it's true and God and Jesus are real, why do you have to remind each other of that once a week?"
It was a valid point. It was the type of observation I would have made if I had not been a Christian for so long. At the time, his question was unnerving, but today, I would tell him, yes, exactly. That's the entire purpose of church.
Think about all the lessons we are taught and believe because our teachers in school taught them to us. I trust grammar. I trust biology. I trust physics and chemistry and geometry because they were taught to me, their methods trusted and passed down for centuries.
When Ben asked about the purpose of church, he was asking a much bigger question. He was asking why humans must gather and remind each other of truth, why we must pass it down and teach and reteach and relearn. He was asking, Why must humans rely on each other? And I ask, How could we not?
What we hear in church today is a passing down of scenes witnessed more than two thousand years ago. Our memory of that time has faded, so we need help to remember. Legacy is our memory keeper, and the church is our memory refresher.
It's true that we have the Holy Spirit. And he is alive in us, yes. And no, we weren't left to our own devices. We have this Helper. But we also have our sin nature and an Enemy that is alive, well, and roaming. We have these things that work against our memory so that by Monday morning we have forgotten him, Christ, who he is and what that means for us.
And during our week, we function in this cloud of remembering and this desire to forget. We move and walk forward in this confliction and show up to our church, however that looks on whatever day that takes place and whatever place it takes place in, and we ask our pastors to remind us. We beg our friends beside us to teach us again who Jesus is, and as we listen to the words or the songs or see the Scripture in front of us for the first time in days, we begin to let Jesus resettle into us.
We begin to remember why, when and how. The death, the Resurrection, the stuff that all actually happened—the truth of it drips slowly into our cups, and we take a sip and remember, and we take another sip and remember, unaware of our thirst until that moment.
Our children around us watch and see, and some of them know, and some of them will know someday soon, but we don't leave them out; we don't dare leave them behind. We all drink deeply, and we know. We know because our fathers passed down a faith that was passed down to them by their fathers, and those fathers had friends who were friends of Jesus, friends who saw and told the stories that are retold to us.
The story hasn't changed, and what was written holds true.
Excerpted from English Lessons: The Crooked Path of Growing Toward Faith by Andrea Lucado Copyright © 2017 by Andrea Lucado. Excerpted by permission of WaterBrook. All rights reserved. No part of this excerpt may be reproduced or reprinted without permission in writing from the publisher.
Order this book on Amazon.com »
Andrea Lucado is a freelance writer based in Austin, Texas. The daughter of best-selling author and pastor Max Lucado, she inherited an obsession with words and their arrangement. She contributes regularly to online and print publications such as Relevant and SheReadsTruth.com.