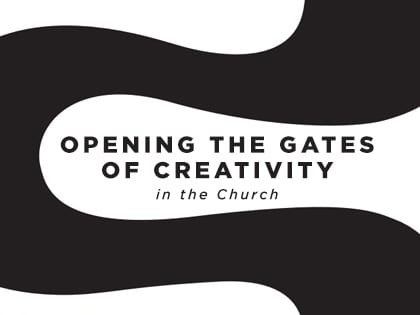 "Closed gates mandate the extra labor of bringing in stale, dry fodder—everything 'Christian' needed to feed the flock."
Recently an artist friend noted that in John 10, the parable of the shepherd and his sheep, Jesus speaks of a reality in which the gate is opened into the world, and he states, "I am the gate for the sheep" (John 10:7). The open gate is why a sheep may leave the flock and be lost (as in Luke 15). The shepherd's job is to guide sheep through the gate and beyond, to help them find the best grass, and to protect them—not to keep them shut in their pen. The pen has a clear function, but we do not need a good shepherd if the sheep are always locked up to be safe from harm.
Jesus, however, promises safety both inside and outside the sheepfold: "I am the Gate. Anyone who goes through me will be cared for—will freely go in and out, and find pasture" (John 10:9 The Message). The word here translated "cared for" ("saved" in many translations) means to preserve something safe and unharmed, to keep something from being lost, and also to cure, heal, or restore to full health. The sheep in this image are made safe explicitly for the purpose of going out and coming in—to cross borders, we might say—so they can thrive.
In recent years, many churches and communities have missed this point. We have created rigid tribal boundaries with high barriers and closed gates to keep our sheep in the pen, safe from the wider world. Ironically, closed gates mandate the extra labor and expense of bringing in stale, dry fodder—everything "Christian" needed to feed the flock—for sheep who should be grazing green pastures for themselves.
This leaves our lively young sheep with a perceived choice between complying with a community's norms and starving culturally, and leaping the fence to get cultural nourishment. Our call as leaders and parents is instead to open the gate and guide them to the greater pastures.
Are we willing as a community or as churches to do that? Opening the gate will mean accepting a loss of control. It will mean exposing our children and our students to certain dangers. They will mix with other flocks, and sometimes we may have to go look for one that gets lost and "leave the ninety-nine" others behind (Luke 15:4). We will confront variable weather, predatory presences, and our own limits as shepherds. But the Good Shepherd promises to journey with us. Will we rely on him to do as he says?
It is not just the border-stalkers but all of us in the sheepfold who need to "go in and out" for our flourishing. If we can raise and train mearcstapas in their challenging role, this gifted group of folks may be able to learn to read the weather and inform us of dangers and opportunities, so that the whole flock will be better able to navigate the outer world of culture.
Taken from Culture Care by Makoto Fujimura. Copyright (c) 2017 by Makoto Fujimura. Used by permission of InterVarsity Press, P.O. Box 1400, Downers Grove, IL  60515-1426. www.ivpress.com
Order this book on Amazon.com »
Makoto Fujimura is an internationally renowned artist, writer and speaker who serves as the director of Fuller Theological Seminary's Brehm Center for Worship, Theology, and the Arts. His books include Refractions: A Journey of Faith, Art and Culture and Silence and Beauty.