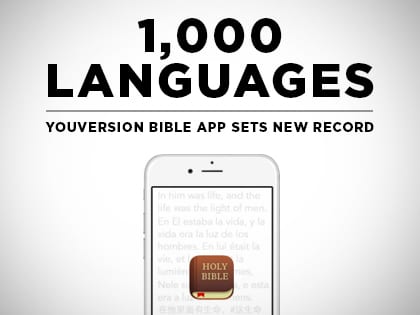 "Thanks to the generosity of our partners, we're pleased to announce that language No. 1,000 has come to the Bible App."
YouVersion's mission is to help people engage with God's Word. And today, thanks to the generosity of our partners, we're pleased to announce that language No. 1,000 has come to the Bible App—making it the first app in history to offer text content in 1,000 languages. Bibilia Ilagano Lya Kale 2015 is written in Sukuma, the primary language of 7.6 million people in Tanzania, Africa. As incredible as it is to be announcing this milestone, Sukuma is just one of the 81 new languages and 83 new Bible versions that our partners introduced to the Bible App during the last three months alone. (The full list can be found here.)
We hope that you enjoy the freedom of experiencing God's Word in your favorite language. If the Bible has impacted your life as profoundly as it has ours, it's important that you know:
More than a billion people still don't have a Bible in their language. Bible societies, Bible publishers and copyright holders have worked together to generate a detailed list of which languages do not have their own Bible. Of almost 7,000 languages in the world, nearly 2,000 still need translation projects started. That sounds like a lot—and it is. But by leveraging today's technology and communication, it's within our reach to see the Bible translated into every language … within this generation.
Tanzania is home to Mount Kilimanjaro, the highest mountain in Africa—and to almost 55 million people. The Bible is living and active among Tanzania's largest people group, the 7.6 million Sukuma: 3.2 million of them are professing Christians. And now that they can use Bibilia Ilagano Lya Kale 2015 in the Bible App, they can engage with God's Word wherever they go, and even more easily share it with others.
Why now?
In 2011, more than half of all Tanzanians (32 million people) had a mobile device, with mobile services there rapidly on the rise. Just as in other parts of the world, affordable smartphones have introduced many Tanzanians to their first computing devices—and to their first internet access. In developing countries, smartphones not only connect people with more news and information, but even with education, healthcare and financial services. And with more than half of Tanzania's population (64 percent) under age 25, it's more important than ever that we equip this generation with God's Word right wherever they are—through their mobile devices.
Don't miss this chance to join in what God is doing in the world. Bibilia Ilagano Lya Kale 2015 is just one of over 1,300 Bibles—and Sukuma just one of 1,000 languages—that now help people engage with God's Word in their own language in the Bible App. We do what we do because the Bible changed our lives. We hope it's changed your life, too.