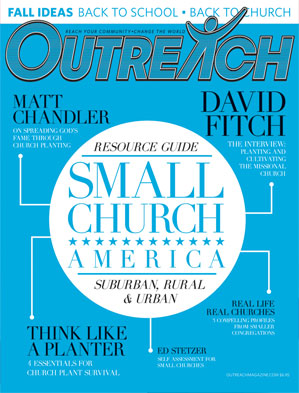 In the July/August 2014 issue: Small Church Profiles (Suburban, Rural and Urban); Think Like a Church Planter; Small Church and Church Planting Resources; Matt Chandler on a Passion for Church Planting and the Outreach Interview with David Fitch
Inside the July/August Issue
Small Church America
"The size of a church does not determine its health, but a church's health can determine its size," says Outreach columnist Ed Stetzer, kicking off the annual Small Church America issue. This year, as in years past, we profile smaller congregations in diverse settings—suburban, rural and urban—and find models of innovation and passion for the community.
Church plant activist Peyton Jones urges readers to think link a planter. He sees shifts in America culture and sees church planters at the vanguard of ministry. He points to four essentials to show how a church-plant mindset can change even the established church.
For The Outreach Interview, we turned to seminary prof, pastor and church plant coach David Fitch, a champion of community-minded small churches. He is quick to point out that increasing numbers can actually hamper outreach, if we allow the details of organizing and operating the big church machine to distract us from living the presence of Christ out there, in the community.
The Small Church America issue is always a highlight, with page after page of perspective, resources and advice for navigating the small church experience. And it is a voice of balance in the church landscape that so easily applauds anything large. When our task is to reach the world, there's no premium on remaining small. But when we leverage the advantages of innovation, fluidity and intimacy for the sake of the gospel, we can expect big things to happen, regardless of our size.
Don't Miss
The Small Church in Profile
Case studies of three diverse congregations reveal innovation and a passion for the community, pointing the way for Small Church America..
One Question With Matt Chandler
Why is church planting such a high priority? Matt Chandler sees church planting as the primary way we spread God's fame in the world. And he doesn't want to miss out.
Think Like a Planter
Four Essentials for Every Pastor: Peyton Jones draws lessons from the Church Planter's Survival Guide.
David Fitch: The Interview
From Wall Street broker to pastor, church planter, seminary professor and author, David Fitch has a unique perspective on the church. And the surprising advantages of "small."
ALSO: Fall Outreach Ideas: Back to School and Back to Church, and much more.
Plus, in Each Issue of Outreach
PULSE: We take the pulse of outreach today as we report on what churches are doing to connect with their communities.
IDEAS: Church-tested ideas for seasonal and targeted ministries for any church, any size
VOICES: Trends and commentary on culture, faith and thought
COLUMNS: Perspective on outreach from Ed Stetzer, Dan Kimball, Bobby Gruenewald, Brad Powell and Brad Lomenick.
Outreach magazine is now available for iPad
Already a subscriber and want to access your free digital edition? Or want to purchase individual issues for iPad? Click here »