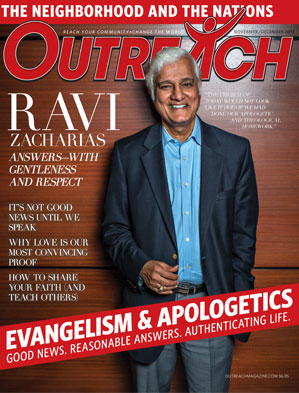 Inside the Nov/Dec issue: James Choung on Evangelism, Mary Jo Sharp and Lee Strobel on Apologetics, How to Teach Evangelism, Thoughts on Local and Global Compassion, and the Outreach Interview with Ravi Zacharias
Editor's Note: The following article was published before the devastating findings from the investigation into accusations of sexting, unwanted touching, spiritual abuse and rape by perhaps the foremost Christian apologist of his time, Ravi Zacharias. The continued publication of this article is meant as a service to our readers, and to provide historical context of his beliefs and ministry. We were saddened to learn of the inconsistency in his personal life.
Inside the Nov/Dec 2013 Issue
Evangelism and Apologetics
When we began work on the Nov/Dec Outreach, there were three ideas we wanted to get across. Evangelism: It's not good news until we tell it. Apologetics: How we think and what we say must be fortified with reasonable answers. Life: What we say has power only when it is authenticated by how we live.
In this issue, Ravi Zacharias echoes the words of the apostle Peter, urging us to offer answers in the power of gentleness and respect. Ed Stetzer notes that Christians seem to really love evangelism—as long as someone else is doing it. He states it plainly: "Stop talking yourself out of evangelism." InterVarsity's James Choung reminds us that the gospel implies words. "Actions aren't enough. Actions don't interpret themselves." Apologist Mary Jo Sharp calls to mind what Francis Schaeffer called "The Final Apologetic"—ultimately how we live and how we love underscores our message or erases its impact. There's a lot here to provoke thought and, by God's grace, action.
Don't miss this landmark issue.
Don't Miss
It's Not Evangelism Until We Speak
Words and actions are like two wings of an airplane, and we won't catch flight in witness with just one or the other
Why "The Final Apologetic" Still Matters
If love is our most convincing proof, does our combative spirit actually argue people away from the truth?
Faith Talks: How to Tell the Story
If the gospel is good news, then that news is supposed to flow amid our daily conversations
Ravi Zacharias: The Interview
"Are the reasons we are giving for the hope within us truly the reasons that meet both the mind and the heart, and are we doing it in the proper way, with gentleness and respect?"
ALSO: Lee Strobel on what's trending in apologetics, The Neighborhood and the Nations: A Renewed Call for Global Compassion, N.T. Wright on "God's Foolish Gospel" and much more
Plus, in Each Issue of Outreach
PULSE: We take the pulse of outreach today as we report on what churches are doing to connect with their communities.
IDEAS: Church-tested ideas for seasonal and targeted ministries for any church, any size
VOICES: Trends and commentary on culture, faith and thought
COLUMNS: Perspective on outreach from Ed Stetzer, Dan Kimball, Bobby Gruenewald, Brad Powell and Brad Lomenick.
Outreach magazine is now available for iPad
Already a subscriber and want to access your free digit edition? Or want to purchase individual issues for iPad? Click here »
For more information about the findings of the investigation into accusations against Ravi Zacharias, click here.