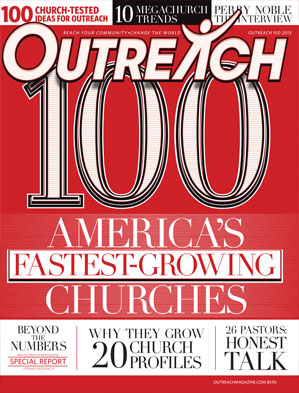 The Outreach Magazine/LifeWay Research Special Report on America's Fastest-Growing Churches, plus Megachurch Trends, 100 Church-Tested Ideas for Outreach, the Perry Noble Interview and more
Inside the 2013 Outreach 100
America's Fastest-Growing and Largest Churches
"There is a difference between growing numbers and growing people; between filling buildings and filling souls; between becoming bigger and becoming more Christlike; between auditoriums full of spectators and churches filled with disciples," writes Robert Crosby in "MegaChange: 10 Trends Reshaping the Megachurch Movement." It's not that the numbers are unimportant. It's that they form an incomplete metric. Crosby's article—and the whole Outreach 100 issue—points to the balance: Numbers have meaning when we don't lose sight of the people they represent.
With that in mind, we present the results of the Outreach Magazine/LifeWay Research special report on America's Fastest-Growing Churches and we delve into the stories behind the numbers. Regardless of the size of your church or your place in ministry, there's a lot to ponder in these pages. Inspiration. Innovation. Ideas. A celebration of the people behind the numbers. The kingdom is growing, and we're each honored to be a part.
Don't Miss
MegaChange!
10 Trends Reshaping the Megachurch Movement
America's Fastest-Growing Churches
The numbers … and what's behind the numbers. Plus perspective from Ed Stetzer, LifeWay Research, who answers the question, What's trending? Sacrifice!
Why They Grow
The stories of many of the Outreach 100 churches
Honest Talk
26 Outreach 100 pastors on the turning points, the metrics of success and essential work habits
Perry Noble: The Interview
The senior pastor of NewSpring Church in Anderson, S.C., the country's fourth largest and second fastest-growing, speaks candidly about what grace has begun in the church and in his own life.
Also in this Issue of Outreach
100 CHURCH-TESTED IDEAS for outreach, community connection, retention and ministry engagement
10 LESSONS FROM LARGE CHURCHES (for churches of all sizes)
6 THINGS WE CAN ALL LEARNS from small church America
JUD WILHITE on the ministry roller coaster and our call to simple faithfulness
Outreach magazine is now available for iPad
Already a subscriber and want to access your free digital edition? Or want to purchase individual issues for iPad? Click here »