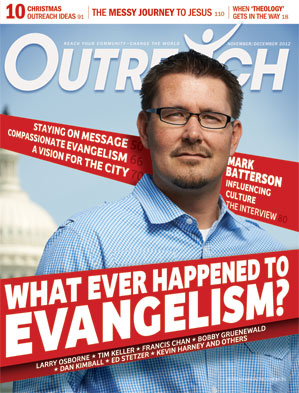 In the Nov/Dec 2012 Outreach: What Ever Happened to Evangelism? Staying on Message (Larry Osborne), The Question of Evangelism, Compassionate Evangelism (Francis Chan), A Vision for the City (Tim Keller), Influencing Culture (Mark Batterson), and more
Inside the Nov/Dec 2012 Issue
Evangelism and Culture
What ever happened to evangelism? According to LifeWay Research, 61 percent of evangelical Christians haven't shared their faith in the last six months, even though they agree it's their responsibility. Statistics don't always tell the whole story, but we suspect that few church leaders would argue with that finding.
Francis Chan believes the culprit for our evangelistic anemia is our own awkwardness around people who don't believe the same things we do. He has also said, "If you can count on one hand all the nonbelievers you know, well, you're not even trying." Out of this conviction, he started engaging the lost in his community with much more purpose and compassionate intensity, an initiative he relates in this Outreach. This special issue is filled with stories and practical features intended to inspire a resurgence of evangelistic passion, and to help you engage your culture with the life-changing message of the Gospel.
Don't Miss
What Ever Happened to Evangelism?
How can they believe in the one of whom they have not heard?
Larry Osborne: Staying on Message
How-To: 2 principles, 7 detours and 1 irrefutable argument
Tim Keller: A Vision for the City
Meeting the challenge of evangelism in urban areas
Mark Batterson: The Interview
The senior pastor of National Community Church on influencing culture from Washington, D.C.
ALSO: Francis Chan on compassionate evangelism; John Polkinghorne on physics and faith; 6 Christian leaders on what it takes to tell the story and live out the truth; and more
Plus, in Each Issue of Outreach
PULSE: We take the pulse of outreach today as we report on what churches are doing to connect with their communities.
IDEAS: Church-tested ideas for seasonal and targeted ministries for any church, any size
VOICES: Trends and commentary on culture, faith and thought
COLUMNS: Perspective on outreach from Ed Stetzer, Dan Kimball, Bobby Gruenewald, Brad Powell and Mark DeYmaz.