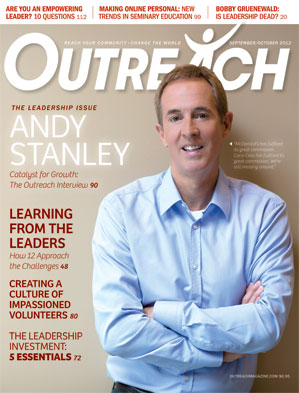 In the Sept/Oct Outreach magazine: Learning from the Leaders: How 12 Approach the Challenges; Creating a Culture of Impassioned Volunteers; Making the Investment in 5 Leadership Essentials; and the Outreach interview with Andy Stanley
Inside the Sept/Oct Issue
The Leadership Issue
In his new book, Deep and Wide: Creating Churches Unchurched People Love to Attend, Andy Stanley explores what it means for a church to be both missional and attractional—following, he insists, the pattern of Christ Himself. On the occasion of the book's release, Outreach magazine spoke with the author and pastor on a wide range of topics related to his own journey and his vision for the church.
Also in this issue, a dozen leaders discuss their approach to 12 challenges facing the church, Dan Reiland underscores five essentials of leadership development and Ryan Meeks reveals a successful, church-tested path for creating committed volunteers.
Don't Miss
Leading Leaders
Confronting 12 leadership challenges facing the church, by Chris Hodges, Derwin Gray, Dino Rizzo, Dave Ferguson, Samuel Rodriguez, Gabe Lyons, Mark Driscoll, Ken Fong, Jenni Catron, Jo Saxton, James MacDonald and Kevin DeYong
The Leadership Investment
5 practical elements to help you build and lead a network of visionary leaders in your church
Impassioned Volunteers
How love, lean ministry and focus on Christ's mission create attendees committed to serving at EastLake Church
Andy Stanley: The Outreach Interview
"You do the right thing, and you trust God with the consequences. Period. It's just that simple.".
ALSO: How seminaries are emphasizing relationships as they link technology to theology
Plus, In Each Issue
PULSE: We take the pulse of outreach today as we report on what churches are doing to connect with their communities.
IDEAS: Church-tested ideas for seasonal and targeted ministries for any church, any size
VOICES: Trends and commentary on culture, faith and thought
COLUMNS: Perspective on outreach from Ed Stetzer, Dan Kimball, Bobby Greunewald, Brad Powell and Mark DeYmaz.
Single copies of the Sept/Oct issue are available from Amazon.com »