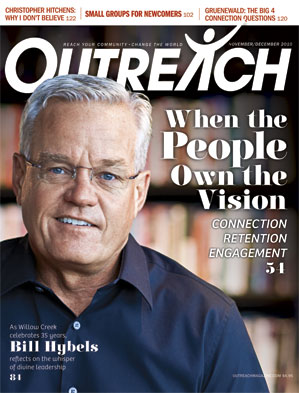 When the people own the vision
What's Featured in the November/December 2010 Outreach?
Theme: Connection > Retention > Engagement
Owning the Vision: How growing churches are making connections with new people and leading them from being passive spectators to active participants in the mission and vision of the church.
The Indispenable Element: Will Mancini on how focusing on a unique, God-given vision creates a deeper connection to your church and its mission.
The Church Connection: 5 pastors discuss how to lead new people to active engagement.
It's in the Details: 8 guest experience pitfalls.
Connection > Retention > Engagement
What "They" Said: Church attendees know something many leaders miss: True engagement hinges on personal relationship at each step. Results from new research conducted by Leadership Network.
IN THIS ISSUE
OUTREACH TODAY: More Than Music; No-Cost Nuptials; Artistic Expression; Faith in Action; Church and Politics; Life-Changing Water; Spiritual Goooooal! Lunch Buddies; Trial to Triumph; Cattle Call; A Second Family; Sewing Kindness; Homeless Advocacy; and more.
FOR ANY CHURCH, ANY SIZE: Small Groups for Newcomers; Creativity with Ed Young; Seasonal Idea Starters; Cancer C.A.R.E.; Neighbor Evangelism; Men's Breakfast Recipe for Success; Cultivating Cultures; New Life in Idaho; Missional Imagination; and more.
HOW DO THOSE OUTSIDE THE CHURCH VIEW FAITH? My Life, So Far: Christopher Hitchens, author and commentator; Mystery Visitor: An unbeliever reports on an unannounced visit to a local church. Could it be yours? The Question on the Street: Is there a heaven? What's it like?
As president and missiologist-in-residence for LifeWay Research, Ed Stetzer is in a unique position to observe the American church and comment on trends in outreach. More »

Pastor and author Dan Kimball gives us a look at emerging generations and offers his thoughts on outreach and evangelism in a new world. More »

Dave Gibbons Global Perspective
As the founding pastor of multicultural and multiethnic Newsong Church, Dave Gibbons seeks to remind the church of its mandate to reach the nations, beginning at "the fringe." More »

Pastor and author Brad Powell offers his experience and insights to help churches realize their full potential and guide pastors through all types of church transitions. More »

Pastor and author Mark DeYmaz urges churches to embrace multiethnic ministry not just for the sake of racial reconciliation, but because that is what the church is called to be. More »

Bobby Gruenewald Innovate
LifeChurch.tv pastor, innovation leader Bobby Gruenewald scans the cultural horizon and calls the church to a creative and relevant response.
Each issue
of

Outreach

 is designed to bring you the ideas, innovations and resources that will help you reach your community and change the world. Subscribe here »