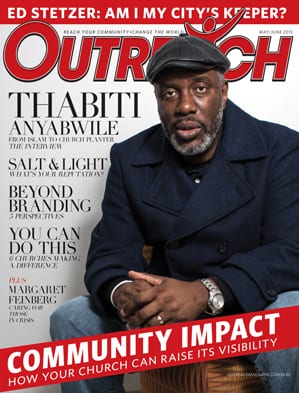 In the May/June 2015 issue: Five Perspective on Moving Beyond Branding; How Six Churches Are Making a Difference; Margaret Feinberg on Caring for Those in Crisis; and The Outreach Interview with Thabiti Anyabwile, the journey from Islam to church planter
Inside the May/June 2015 Issue
Community Impact
Salt and Light Churches
As we began planning this issue on Community Impact, we decided to frame the discussion around the question of visibility. Is the church known in the community. And what causes a church to be seen and appreciated?
We might turn our attention to marketing and branding; this magazine's parent company is all about providing such resources. Browse Outreach.com for a plethora of ideas and tools. But even the most enthusiastic marketer will confess: There has to be something to market, something to spotlight, something to applaud. So we look deeper.
In this issue, Thomas Bandy draws a helpful distinction between marketing and reputation. And while he and his co-authors are quick to acknowledge marketing's place in the discussion, he's clearly arguing for the power of a positive reputation. Churches living out a redemptive presence, seen and known for who they are, what they do, what they invest in, to elevate Christ through word and service.
Shrill voices may bemoan the decline of the American church, cataloging legitimate concern. But Salt and Light Churches offer an eloquent counter argument, enfolding their communities in the love of Christ.
You won't want to miss this issue.
Don't Miss
ALSO: Margaret Feinberg on how we can better care for those in crisis; Ed Stetzer on the question "Am I My City's Keeper?" Asain church planter K.P. Yohannan on course corrections for life and ministry; the advantages of international staff exchanges; and much more.
Plus, in Each Issue of Outreach
PULSE: We take the pulse of outreach today as we report on what churches are doing to connect with their communities.
IDEAS: Church-tested ideas for seasonal and targeted ministries for any church, any size … plus insight from Warren Bird, Mel McGowan, Mark DeYmaz, Charles Lee, Brad Lomenick and Brad Powell.
COLUMNS: Perspective on outreach from Ed Stetzer, Dan Kimball, Bobby Gruenewald.
Outreach magazine is now available for iPad
Already a subscriber and want to access your free digital edition? Or want to purchase individual issues for iPad? Click here »