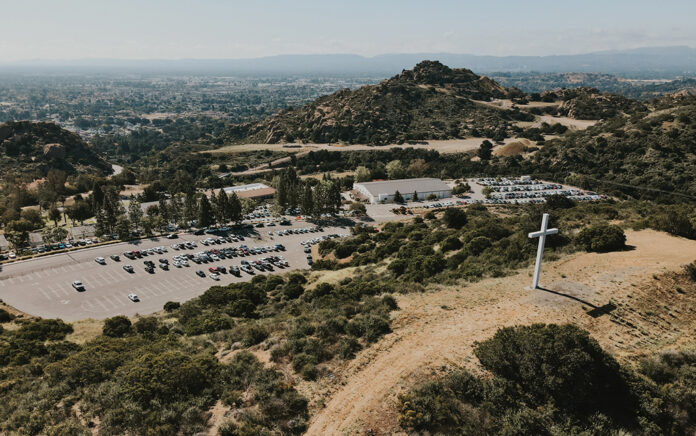 "It's 'Come as you are,' but it's done with excellence."
Every church has a unique location—urban, rural, central, remote. And each one faces the challenge to identify and distinguish itself in that location for the sake of the people who they desire to serve.
The Church at Rocky Peak in Chatsworth, California, is no exception. Nestled in the rough canyon terrain of the San Fernando Valley's historic Santa Susana Pass, Rocky Peak took cues from the unique, soil-specific story of its location, allowing it to influence all three dimensions of its brand identity, digital presence and destination space.
Leaning Into Its Surroundings 
Named for the nearby hiking summit, Rocky Peak's campus is located on a winding road in the surrounding mountainous landscape dotted with cliffs, crevasses, wild sagebrush and rocky terrain. By its name alone, the church was already primed to lean into its identity, while giving their outbuildings names like The Ridge, The Summit and The Vista kept the motif consistent. But they wanted to go further.
"When you come here, it almost feels like a retreat center," says Michael Yearley, lead pastor at The Church at Rocky Peak. "It's a historic stagecoach route, and there are a lot of hills and mountains. We wanted to capitalize on that, and it influenced our brand."
Because of its location and the area's reputation as a destination for hikers and explorers, Rocky Peak's team envisioned the church as a natural extension of its surroundings. Historically, the Santa Susana Pass formed a treacherous route for travelers. In the 19th century, it was a well-known refueling station for stagecoaches—and thus a place that attracted robbers. Along this deadly and dangerous road, travelers risked their lives not only because of the terrain, but because of the bandits who were known to hold up stagecoaches. A particularly treacherous pathway called The Devil's Slide required travelers to blindfold their horses, exit their wagons and use a number of measures to keep the wagons and teams from running away down the steep incline. 
The dry, desert wilderness landscape became the site for many popular Western dramas during the golden age of Hollywood. Cowboy movies and TV shows such as The Lone Ranger and The Roy Rogers Show were shot on location here, as were more recent films like Quentin Tarantino's Once Upon a Time in Hollywood. The territory also became infamous as the location of the Manson Family compound. 
Today, the Santa Susana Pass attracts adventurers who crave time in the rugged hills.
"Our location is very much who we are," Yearley says. "We have a certain intensity about us, but there's also a casual feel, and so we're trying to communicate all those things. It's 'Come as you are,' but it's done with excellence."
Fresh Yet Familiar
A church's brand is the unique story it communicates to the communities they serve. It's not just a logo or a typeset on a street sign or website. A well-developed brand should give outsiders an accurate sense of the experience they will have when visiting the church and meeting its people.
Rocky Peak's leadership team dove headfirst into the idea of strengthening its brand in accordance with its heart and surroundings. They were determined to represent the DNA of place across their brand, web presence, physical wayfinding and signage. PlainJoe: A Storyland Studio came alongside Rocky Peak to undertake the multiphase process.
Rocky Peak adopted a fully integrated, synergistic experience through its strategic, digital and spatial storytelling. This process began with their overarching brand identity, which would then inform their digital and physical spaces.
"The opposite of being relevant out here in Southern California is churchy," says Yearley. "We want to feel fresh, relevant, compelling and familiar, in a good sense, so we can remove obstacles to Jesus."
The church's primary ministry focus is its weekend services. They especially want local families with children to feel served by their worship services and kids' ministry offerings. To make this happen, the branding would need to tap into the urban-casual spirit of the local community, while highlighting the welcoming feel the church is known for.
Developing the refreshed brand was very much an iterative process, involving not only our team at PlainJoe and Rocky Peak's leadership, but church members, too. Many were invited to participate in focus groups where they got the opportunity to look at each stage of the creative process and share their opinions on what we were creating. 
A Clear Sense of Place
Once Rocky Peak settled into its refined brand identity, that work flowed directly into its digital storytelling presence. Our team worked with the church to develop a new website that paired seamlessly with their brand personality.
In the process, we tapped into what the church really needed. Two of the most important features included a top-of-the-line, custom streaming video player and a robust content search function, both of which proved their worth when the church quickly transitioned to remote services during the pandemic.
The visual design draws upon the mountainous topography of the region while remaining simple and straightforward. Their rich digital content layered over topographical maps of the area gave a subtle suggestion of an outdoor outfitters shop.
"It gives us confidence," says Brian Glassford, communications pastor at Rocky Peak, "like we're expressing ourselves and our hearts and who we are for the kingdom of God. All that was birthed out of this creative, collaborative process."
As we moved into the spatial storytelling portion of the project—which would lend itself to the look and feel of the campus—we wanted visitors to buy into the destination. "Developing the external wayfinding signage was a really fun process, and grueling in some ways," says Glassford. "We had a lot of design ideas and many voices in the process."
Rocky Peak sits on 115 acres of beautiful terrain adjacent to an open space conservancy, so in alignment with the branding strategy, the team wanted their common spaces to recall the rugged and stately feel of a state or national park. For their monument signs, wayfinding, signage and outdoor posters, we referenced trail markers that have a familiar look and feel. This design decision allowed Rocky Peak to fully embody its location, its history and its calling—and communicate that to others.
"The signage draws everything together on the campus," says Glassford, "and I think it makes a super inviting environment for people to come and experience God and experience growth in Christ."
By weaving its strategic brand identity seamlessly with its digital presence and physical space, The Church at Rocky Peak has created an integrated and immersive experience that provides continuity across every touch point.
To learn more about The Church at Rocky Peak, visit RockyPeak.org.