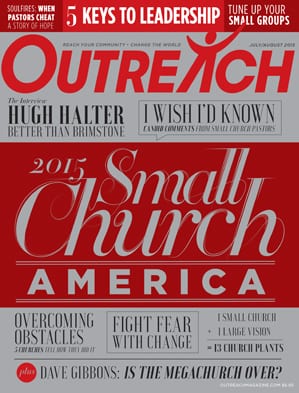 In the July/August 2015 issue: Small Church Pastors on What They Wish They'd Known; 5 Small Churches Recount How They Transformed Obstacles Into Ministry Opportunities; and the Outreach Interview Features Hugh Halter
Inside the July/August 2015 Issue
Small Church America
Welcome to Outreach magazine's 7th annual celebration of Small Church America.
Over the years we have celebrated the best in the American small church experience, applauding its diversity, authenticity, creativity and intimacy. We have profiled the small church experience expressed in rural America, in suburbia and in the country's metropolitan centers. We have poked our editorial heads into small churches catering to cowboys, talking to truckers, hangin' with surfers, baptizing bikers, loving outcasts and redeeming whole neighborhoods. Remarkable things are happening in Small Church America.
We know too that the experience can be lonely and discouraging.
This year we teamed with four friends–Karl Vaters, Chuck Warnock, Dave Jacobs and Peyton Jones—each in their own way champions of the small church experience. They gave invaluable input and connected us with a number of you who shared your insights and told your stories.
As we read your candid comments in "I Wish I'd Known," we reflected on how we're all in this together. That story became for us—and may also become for you—a prayer guide as we share one another's concerns and ministry journey. And "Overcoming Obstacles" reads as one more reminder that innovation and courageous ministry are still very much alive in Small Church America. The interview with Hugh Halter is provocative and insightful.
As you read this issue you'll find much more to encourage and inspire you as you faithfully serve in whatever place and circumstance God has called you.
Don't miss it!
Don't Miss
ALSO: Dave Gibbons on the megachurch and metrics; Ed Stetzer with a different take on church membership; Brad Powell on transitioning your small church; Bobby Gruenewald on fighting fear with change; church planter Kevin Cox on how a small church plant with a big vision planted 13 other churches; and much more.
Plus, in Each Issue of Outreach
PULSE: We take the pulse of outreach today as we report on what churches are doing to connect with their communities.
IDEAS: Church-tested ideas for seasonal and targeted ministries for any church, any size … plus insight from Warren Bird, Mel McGowan, Mark DeYmaz, Charles Lee, Brad Lomenick and Brad Powell.
COLUMNS: Perspective on outreach from Ed Stetzer, Dan Kimball, Bobby Gruenewald.
Outreach magazine is now available for iPad
Already a subscriber and want to access your free digital edition? Or want to purchase individual issues for iPad? Click here »