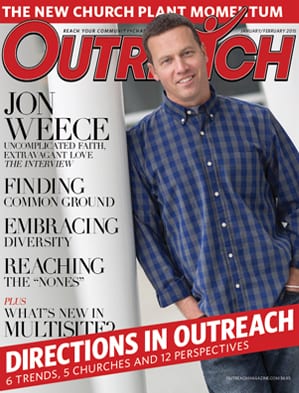 Inside the Jan/Feb 2015 Issue Directions in Outreach Powerful forces are reshaping culture … and the church responds. In the church, the Spirit birthed a living organism. Growing, adapting, without changing its essence. Throughout the book of Acts Christ-followers quickly learned that this new thing—the church—through the Spirit within them, conveyed its timeless message appropriate […]
Inside the Jan/Feb 2015 Issue
Directions in Outreach
Powerful forces are reshaping culture … and the church responds.
In the church, the Spirit birthed a living organism. Growing, adapting, without changing its essence. Throughout the book of Acts Christ-followers quickly learned that this new thing—the church—through the Spirit within them, conveyed its timeless message appropriate to the times in which they moved and the cultures they encountered.
The Scripture had foreshadowed a global faith for all nations, an ageless faith for all generations. The Great Commission reflects both ("to all nations" and "till the end of the age"). So in our time, as the pace of change accelerates and convulses culture, the church meets it, in each context, adaptable, ever new.
And so, in this issue, we explore how outreach-oriented churches and leaders are re-envisioning and restructuring in response to changing needs. And they illustrate the Spirit-infused flexibility of this living, breathing organism, the church.
Let's dig in.
Don't Miss
ALSO: Planning for Easter impact, seven ways to think about social media, new directions in building design; learning from the Korean church and much more.
Plus, in Each Issue of Outreach
PULSE: We take the pulse of outreach today as we report on what churches are doing to connect with their communities.
IDEAS: Church-tested ideas for seasonal and targeted ministries for any church, any size … plus insight from Warren Bird, Mel McGowan, Charles Lee, Brad Lomenick and Brad Powell.
COLUMNS: Perspective on outreach from Ed Stetzer, Dan Kimball, Bobby Gruenewald.
Outreach magazine is now available for iPad
Already a subscriber and want to access your free digital edition? Or want to purchase individual issues for iPad? Click here »