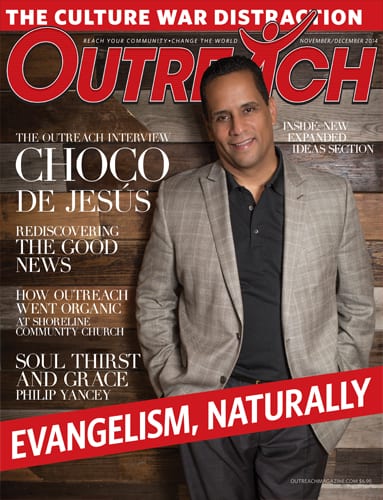 In the Nov/Dec 2014 issue: Kevin Harney on Evangelism, Naturally; Lance Ford on Being "Good News" People; Philip Yancey on Soul Thirst; Larry Osborne on Evangelism and Culture Warfare; and the Outreach Interview with Wilfredo "Choco" De Jesús
Inside the Nov/Dec 2014 Issue
Evangelism and Grace
"One of the common criticisms Jesus faced was that he spent too much time with sinners." Columnist Ed Stetzer asks: "How many of us could be accused of that?" And surely that is one of our most basic problems with evangelism. Want to fish? Go where the fish are.
But there's more to it than that. Somehow, we have allowed an us-against-them posture to overtake the church and rob us of our Christ-given reputation of "Good News" people? In this issue, both Lance Ford and Philip Yancey point to the vanishing graciousness, and with it, the disappearance of grace. "In many ways," says Ford, "the gospel has been reduced. What do we need to do to get the good news back into the gospel people? It starts," he says, "with rehydrating our shrunken gospel."
And Larry Osborne reminds us that fighting culture wars can actually become a distraction and subsume the eternal remedy, our very mission: Make disciples. Build the church.
But this issue goes far beyond critique and evangelistic aspiration, it also points to models we can emulate—nonconfrontational, organic outreach. So dig in and keep leading your church on, toward our high call: Evangelism, Naturally.
Don't Miss
ALSO: Larry Osborne on the distraction of the cultural wars; learning from the Australian church; creating church planting church plants; leveraging social media and much more.
Plus, in Each Issue of Outreach
PULSE: We take the pulse of outreach today as we report on what churches are doing to connect with their communities.
IDEAS: Church-tested ideas for seasonal and targeted ministries for any church, any size … plus insight from Warren Bird, Mel McGowan, Charles Lee, Brad Lomenick and Brad Powell.
COLUMNS: Perspective on outreach from Ed Stetzer, Dan Kimball, Bobby Gruenewald.
Outreach magazine is now available for iPad
Already a subscriber and want to access your free digital edition? Or want to purchase individual issues for iPad? Click here »