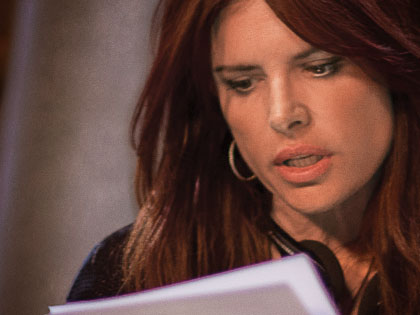 The star of the former hit TV show "Touched by an Angel" shares her views of "The Bible" miniseries, premiering March 3 on the History Channel.
An accomplished stage and screen actress best-known to American TV viewers for her role as the angel Monica on the hit show Touched by an Angel, Roma Downey is one of the driving forces behind the upcoming epic TV miniseries The Bible. Downey and her husband, longtime producer Mark Burnett, created and produced the miniseries together, and Downey steps in front of the camera to play the part of Mary, Jesus' mother. Churches nationwide are poised to help people engage with The Bible, which premieres March 3 on the History Channel and continues weekly through Easter.
In this interview, Downey discusses why The Bible is important to her, the impact it has had on her personal faith, what she hopes the series will accomplish and more.
Why was it so important to you personally to do a miniseries about the Bible?
My faith is incredibly important to me. The Bible is such a moving and inspiring book that deserved to be presented in a powerful way on television. My hope as a producer and as a storyteller was to strive for excellence throughout this project and to bring these remarkable stories alive in a way that people haven't seen before.
Why or how is a miniseries like this uniquely suited to effectively share the Bible with people in American society today, many of whom may not be familiar with some of the stories being depicted?
The series will air on television, which is an incredibly powerful platform. It's the perfect arena to share the Bible, which is filled with stories of hope, sacrifice and redemption. Whether you are familiar with these characters or not, I believe that the themes in the series are as relevant and important today. Generations later, they continue to touch and inspire us.
What depiction of a biblical story in the miniseries do you think will be the most surprising for viewers? Why?
I think that everyone is familiar with the story of David and Goliath. But David's story doesn't end there; that's just the beginning. To see his life unfold with all his triumphs and failures is a compelling and engaging story that might surprise viewers.
What impact has this production and playing the role of Mary in it had on your personal spiritual life?
I have loved Mary my whole life. She has always had a special place in my heart. As a mother myself, it was very meaningful to me to experience the role through a mother's eyes and feel them through a mother's heart. I feel blessed to have played her. I'm so grateful through my work on Touched by an Angel and now through The Bible to be able to bring a message of God's love for all of us. Producing this series has definitely strengthened my faith.
What role will local churches play in strengthening the impact of The Bible series?
We are so grateful to all of them for their encouragement and support. We would like this series to do well and for churches to be able to see it as a tool for their ministries. This series has the potential to reach millions of people. On the Monday mornings after it airs, people will be discussing The Bible at the water cooler. That's very exciting!
How will you define "success" for this project? What do you hope it accomplishes?
I heard that 25 percent of Americans say they never read the Bible—exactly twice as many as say they read it everyday. My hope is that by showing God's love through the stories we're dramatizing, we'll lower that first number and raise the second by generating enthusiasm for the Scriptures. We have tried to breathe fresh new visual imagery into these great stories with the hope to engage a whole new generation. As I gather with my family to watch each Sunday starting March 3, my hope is that families across the nation will enjoy this series together.
Read Mark Burnett's faith story and thoughts about The Bible miniseries.
Learn more about The Bible and the related resources available for churches.