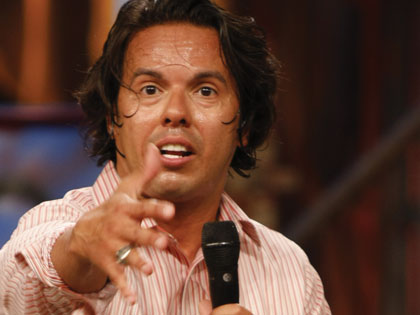 "Any outreach to the Hispanic community must be intentional and institutionalized. It can't be tokenistic."
Evangelism to the Hispanic community represents the future of American Christianity. We have more than 50 million Hispanic-Americans currently, according to the 2010 census. It is the fastest-growing Christian demographic. We understand by sheer numbers that Hispanics have a greater conversion rate. When they hear the Good News, there is a greater propensity for conversion.
Embedded in the Hispanic cultural DNA historically is a very, very strong faith ethos. If you go to Latin America and you're looking for the downtown, in every single city, people will point you to the church. When Spain began to colonize Latin America and the Caribbean, part of her modus operandi was to build the church first. The church is the center of community. So even if you're not a born-again Christian, there's an easy transition to, "Sure, Jesus Christ is my personal Lord and Savior."
Although the vast majority of Hispanics are Catholic, the fastest-growing group would be Hispanic evangelicals, based on a Pew Research Center study. The Hispanic evangelical community continues to grow for a number of reasons. You don't have to go through a bureaucracy to have your prayers answered. Second, it's very relational. We can customize our church to your culture, so if you're Salvadoran, we can play Salvadoran music in our congregation for worship. We can serve the pupusas [a traditional Salvadoran food dish] at the service. No. 3, it offers leadership possibilities. In a few months you can be involved in leadership at the church, anything from preaching to even pastoring.
Any outreach to the Hispanic community must be intentional and institutionalized. It can't be tokenistic. If a pastor feels a call to start a Hispanic outreach, he's going to have to begin by having a Hispanic on his trustee board. That will institutionalize the commitment. Look at your worship team and your current congregation. Look for Hispanic-American participation. You will not be able to attract what you do not present. No. 2, it must be relational. It means touching the homes of the Latino community. It does include music. It does include food, but it's relationship. No. 3, you have to affirm the culture. Have Spanish-speaking individuals in your leadership team. Make sure the banners, the promotion, the marketing tools are in both Spanish and English. Also, the Latino community wants to deal with some of the issues our young people are struggling with—gangs in our community, teen pregnancy. It has to be family friendly.
There's a pastor in Los Angeles named Jim Tolle. He's Anglo. He has a calling for Latinos. A few years ago, he said, "We have a number of men and women living together out of wedlock. I'm going to offer to marry them; not just marry them, but buy the dress, the tuxedo, buy the cake. If I have to get the wedding ring, I will. And that's how I'm going to attract them." And he did. Now the church is arguably, if not the first, the second-largest Hispanic church in the country. It's called Church on the Way, La Iglesia en el Camino, and it's over 10,000 strong. Provide the fishes with the bread, and people will come.