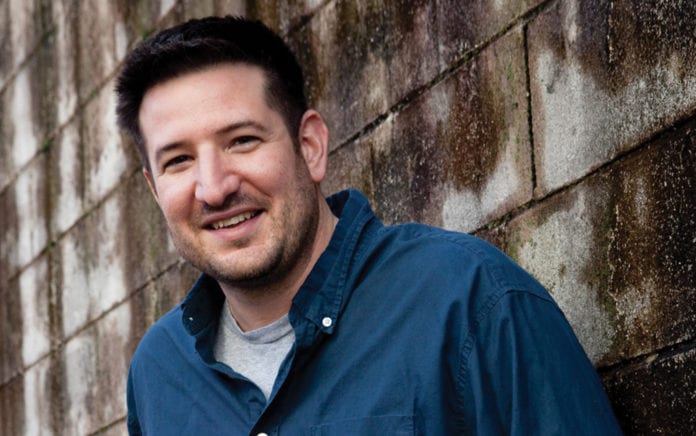 The gospel of Jesus is strong enough to be the main thing of a church.
When Jared C. Wilson wrote The Prodigal Church: A Gentle Manifesto Against the Status Quo (Crossway, 2015), he was critiquing the attractional church model and asking leaders to reconsider how they reach the people in their communities. His latest work, The Gospel-Driven Church: Uniting Church Growth Dreams With the Metrics of Grace (Zondervan, 2019) releases this March and revisits that conversation. This time, though, Wilson describes in detail the next steps church leaders can take when they're ready to embrace a gospel-centered mission.
Wilson, who is on the faculty at Midwestern Baptist Theological Seminary and is director of the pastoral training center at Liberty Baptist Church in Kansas City, Missouri, is a former advocate of attractional outreach strategy. Here, he talks about how he came to realize that what he'd been living out wasn't working, and he explains why church—and the gospel—needs to be for lifelong Christians as much as they are for those who don't yet believe.
At what point did you realize something wasn't working with the attractional church model and that we needed to return to gospel centrality?
My wife and I were members for a little over 10 years of an attractional church in Nashville. We came from Houston sold out on the seeker-sensitive model. I was a defender of the model mainly out of the motivation that the church exists to reach lost people. We gave quite a bit of time and energy at the church we joined, but my life fell apart. It was really a confluence of events personally and in the church. My marriage was a mess, and I personally had entered a period of depression. Then someone turned me on to the message of the gospel for Christians.
Now, I grew up in the church, and I was a believer, but my working assumption had always been that the gospel was for lost people, and then you move on. When I was at the bottom of the barrel, I had a decade or more of these applicational, relevant life tips from church, but none of them got at what was in my soul. I didn't even know what the main problem was until I heard people preaching the gospel to Christians. But the Lord did this amazing thing in my life and in my heart and turned my world right-side up. As my wife and I were rebuilding our life from the ruins, we weren't angry, we weren't criticizing anybody, but it was going against the grain to go every week to church and not hear the message of grace. Instead, we heard, "Here's four more ways to be a better this."
As I looked back at the last 10 years of ministry and began to match that up with some of the research I began to do—plus the research of Sally Morgenthaler and others—it out that attractional churches aren't reaching lost people the way they think they are. They were actually reaching disaffected believers, the dechurched and the rechurched. I was demoralized, realizing our church wasn't actually invested in discipleship. We couldn't get any cultivation of community going. I always wondered why that was. But now I began to have a framework to understand the deficiencies of the place. Ever since then I've been building on the idea that the gospel of Jesus is resilient and versatile enough to sustain a church's evangelism and everything else, that it really is strong enough to be the main thing of a church.
How is the gospel just as necessary and biblical for longtime believers as it is for unbelievers and new believers?
The way people come to belief is not ultimately by our good arguments or our motivational, inspirational rhetoric. They have heard the Word of God in some form and come to believe in Jesus. The Holy Spirit changes someone's heart through the Word of God. When people get saved, that is how. The gospel has the power. Paul writes in Romans, "I am not ashamed of the gospel, for it is the power of God that brings salvation."
But what is really fascinating—and it's kind of the point of gospel centrality—is that the gospel isn't just the power for salvation or justification. It's also the power for our growth in Christ. That's the revolutionary idea that has yet to reclaim evangelicalism: We don't just become Christians by the gospel, but we become more Christian and more mature by the gospel. In 2 Corinthians 3, Paul says that it's by beholding the glory of Christ that we are transformed from one degree of glory into another, into his likeness. So to become more Christlike involves beholding the glory of Jesus. If that's true, then we want to make sure what we do churchwide maximizes the amount of glory of Jesus that we give people to behold. What it boils down to is if we minimize the gospel and the Christ-centeredness of our music and everything else, we're minimizing the opportunity not just for lost people to get saved but for found people to grow.
Also in 2 Corinthians 3, Paul contrasts the power of the law—the thing to do—with the power of the gospel—the thing that was done. What we learn from him there and elsewhere is that the way people grow is not by being told over and over again what to do. The law tells us what to do, but it can't empower us to do it. It's the grace of God that actually empowers us, and that's such a radical notion. It goes against every instinct that we have in our flesh that makes us want to believe we've got what it takes. But you don't have what it takes—you need the grace of God.
In Part 2 of the interview, Jared C. Wilson talks about where the attractional model started, and the danger of pragmatism as a method of running a church.
Order 'The Gospel-Driven Church' from Amazon.com »

Read more at OutreachMagazine.com/Jared-Wilson.