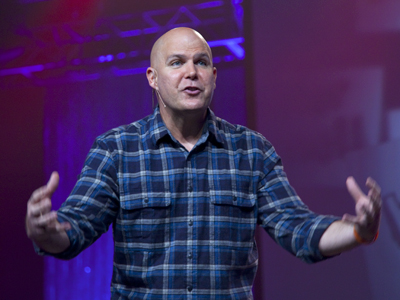 Kerry Shook discusses the successes and disappointments he's experienced in ministry and more in this 2010 interview.
Kerry Shook is the senior pastor of Woodlands Church in The Woodlands, Texas.
CONNECTION TO OUTREACH MAGAZINE: Shook was one of the National Outreach Convention speakers featured in the September/October 2010 issue of Outreach and wrote "Marriage in a Culture of Divorce" for the magazine's May/June 2011 issue.
KERRY SAYS:
What have you had to change in your life to live a "no regrets life"?
The greatest shock of our lives is how intentional we must be to stay focused on the most important things, i.e. relationships. We have had to cut a lot of good things out to do what was best. We have become very intentional in scheduling our time with our family.
What has been the most successful, rewarding experience in your ministry to date?
Without question, it has been seeing all four of our kids fall in love with Jesus Christ and use their talents for Him. We have one who is a filmmaker, two who are amazing musicians and our daughter who is using her leadership gifts to lead a Bible study of some 80 kids.
What has been your most fantastic mistake? What did you learn from it?
My biggest mistake early on in starting the church was not enjoying the ride, being too preoccupied with what the next big hill would be to climb, overcoming the next big challenge instead of taking time to experience the adventure of what God was doing along the way.
What has been your biggest ministry disappointment so far?
My biggest ministry disappointment is that churches don't collaborate as much as they need to in reaching the world for Christ. Pastors and church leaders are often insecure in risking relationships across denominational boundaries, or we may be so prideful that we don't think anyone else can do as good a job as we can. We've just recently partnered with Lakewood Church in Houston and Pastor Marcus Witt to begin a Spanish service at Woodlands Church. Being this close to the largest and most successful Spanish ministry gave us an opportunity to collaborate for those too far to drive to Lakewood and yet receive the quality of service and message that Lakewood can offer.
What areas of growth or development have you experienced in your personal spiritual life in the last year?
Well, I've never led a church this size before. It constantly keeps me leaning on God, learning from Him and others as we grow. He continues to stretch us, and I never really get to sit back and coast or rest on past success. I've been reading about some of the great men and women of faith lately, people like Dietrich Bonhoeffer, Elizabeth and Jim Elliot, St. Augustine and others who really counted the cost in following Christ. It has challenged me to step up in my faith walk.
What has been the greatest obstacle to spiritual growth for you in the last year? How have you overcome it?
One of the greatest obstacles in my life has been the demands on my time. There have been so many good things that have opened up for us, but we have to stop and pray about what God would have us to do and what He called us to do. All these opportunities can be a negative and distract you from your primary calling and personal spiritual growth.
* * * * *
Kerry Shook on teaching and modeling the marriage commitment in a culture of divorce:
In the early days of our church, one of our best evangelists was an unbeliever named Archie whose wife, Darlene, had committed her life to Christ at the end of our first worship service.
Over the next year, Archie brought more than 15 of his friends to the church, and they became Christ followers! He told his friends at the tennis club: "Your marriage is falling apart, and you need what this church is talking about! I'm really not sure about all this Bible stuff, but it's really helped my marriage." Archie finally committed his life to Christ several years later; but without knowing it, he had helped us start our strategy for lifting up the value of marriage in a culture of divorce.
The only reason Archie had this right to speak so strongly into his friends' lives is because he had been a friend for a long time. He didn't judge them or criticize their past divorces or their current marriage problems. He just offered them encouragement and help—unwittingly modeling the only biblical and effective approach to upholding the value of commitment while not condemning the person.
We train our members to never give biblical advice without becoming a caring friend first. Archie showed me that you can share the truth from God's Word in a strong way if you have already earned their trust and friendship. We also teach our members to never share this biblical truth of commitment in a judgmental way, but only out of a loving desire to help their friends.
Read more in the May/June 2011 Outreach »
HOW TO LINK: Connect with Kerry at Woodlands Church, through Kerry Shook Ministries or on Twitter at Twitter.com/kerryshook.
BOOKS BY SHOOK:
One Month to Live: 30 Days to a No-Regrets Life, co-written with his wife, Chris (WaterBrook)
Love at Last Sight: 30 Days to Grow and Deepen Your Closest Relationships, co-written with his wife, Chris (WaterBrook)
GOT A QUESTION OR COMMENT? Post a comment on this page, or send an email.
Each issue of Outreach is designed to bring you the ideas, innovations and resources that will help you reach your community and change the world.