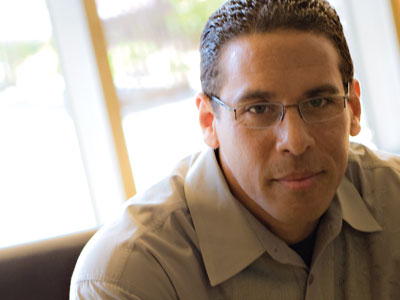 How a former NFL safety started a youth ministry and one of the Largest and Fastest-Growing Churches in America
A former starting safety for the National Football League's San Diego Chargers and the pastor of one of the No. 19 Largest and No. 36 Fastest-Growing Church in America in 2009, Miles McPherson is no stranger to the spotlight. He's the founder and leader of The Rock Church in San Diego and the national youth ministry Miles Ahead. He has spoken at conferences nationwide and has written six books—including Do Something! Make Your Life Count (Baker). He spoke at the 2008 Republican National Convention, has appeared on national network news programs and emerged in 2008 as a leading voice in the gay-marriage debate as he supported a California proposition that permits only marriage between a man and a woman.
However, his notoriety is far removed from his middle-class upbringing in a largely segregated neighborhood on Long Island, N.Y., in the 1960s and 1970s. One of five children born to a father who worked as a police officer and mother who toiled as a nurse, his football skill led him to the University of New Haven and, ultimately, the NFL. But he also experienced firsthand the scourge of drug use, from the marijuana he began smoking at 16 to the cocaine he snorted as a young professional athlete until he finally submitted to God's call on his life 25 years ago.
Today, McPherson exudes enthusiasm and energy and a commitment to spread the Gospel. He spoke to Outreach about his life experiences, his dependence on God and his views of ministry today.
Q: You eventually became a youth pastor, and then you started the ministry Miles Ahead. To what do you attribute your passion for reaching youth?
A: I can only really say God. I think the first high school where I went to speak on my own was Mira Mesa High School in San Diego. My heart broke seeing and hearing these kids' stories about what they were going through. I did drugs in high school and slept around, and I knew exactly what they were talking about. It hurt me because I had something that could help them.
What started me in ministry was a 16-year-old kid who lived next door to me. His older brother got arrested at 5 in the morning one day. Later that day, he was sitting in his brother's car. I called him in the house and led him to the Lord. I said, "Go get your sister." She came over, and she got saved. I said, "Go get your other friends." We ended up having nine races and nationalities in that house, and these kids were from local high schools. They just came over. I said, "Is this that easy—to get people saved and see their lives changed?" I just saw the fruit in it, and it was fun. I said, "Why don't I just do this?"
* * *
Q What advice would you give to someone who's starting a church now?
A Make sure God is calling you to do it. If there's anything else you can do and be fulfilled, do that. Don't be a pastor if it's just an option. It has to be the only thing your heart burns like fire in your bones to do, because it will kill you. The other thing I would say is, in the end, you have to walk by faith. Theory and leadership slogans are not going to sustain you because God is always going to call you to step out of the boat. The only thing that's going to hold you up is trusting in the Word of God.
* * *
Q Why do you think an active stripper or an active drug dealer comes to church at The Rock on Sunday?
A Why did people go to Jesus? They heard that He would hear them and love them. I think people have heard that there are people here who would love them and won't judge them.
Also, we have people in strip clubs ministering to them. We have people on skid row. We have people in the convalescent homes, in the foster homes, in the jails, ministering to these people. They are experiencing the love of Christ on site, so they think, I want more of that. They come and hear a relevant message, and of course, the Holy Spirit and the Word of God work in their hearts. They come back, and then they go get their friends because they know their friends have the same issues they have.
Books by Miles
Miles McPherson's latest book, Do Something! Make Your Life Count, is the basis of a new churchwide campaign from Outreach Inc., Outreach magazine's parent company, to help church attendees increase their impact on the unchurched and live a life of significance. A church campaign kit, a campaign-version of the book that is exclusive to Outreach, a small-group study guide and outreach tools are available. (Baker Publishing Group is releasing the book for sale in January.) For more information on the campaign, visit DoSomethingOutreach.com.
Do Something! Make Your Life Count (Baker, 2010)
I Don't Want Your Sex for Now (Bethany House, 2001)
Parenting the Wild Child (Bethany House, 2000)
Bad to the Bone: Fifteen Young Bible Heroes Who Live Radical Lives for God (Bethany House, 1999)
21 Jump-Start Devotional: Getting Started on Your Incredible Christian Life (Bethany House, 1999)
The Power of Believing in Your Child (Bethany House, 1998)
Ministry Web sites: