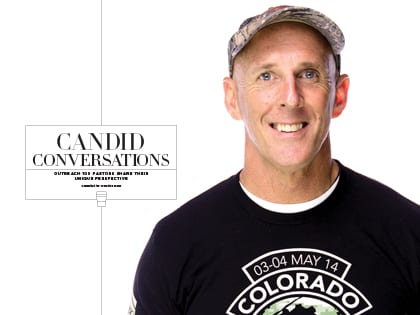 "We are actually being hateful and destructive if we teach anything other than God's truth."
Each year, we speak with several Outreach 100 pastors in an effort to collect their honest observations about the church, their ministries and their experiences.
JIM BURGEN
Flatirons Community Church in Lafayette, Colorado
I have a group of men around me who know me, including my embarrassing and shameful parts. My life is a journey, but the one thing that is not a part of my journey is secrecy. They fully know me. They include my lead team and my elders. I never thought it was possible to be fully known without fear of judgment or condemnation, especially in the church (isn't that a sad statement?). Now that I have found it, I can't imagine living any other way.
I've been reading and re-reading Dallas Willard's The Divine Conspiracy over and over for the last three years, and living in the Sermon on the Mount, reciting it every day out loud in a steam room in my gym after my morning workout. Weird, I know, but life-changing.
I don't pay attention to unsigned emails or grenades lobbed at me from behind anonymous email addresses. I read every email that comes in and the ones that are critical—I have to honestly admit that there may be a nugget of truth in there, even if it is based on a perception more than a reality. I've also hung onto Jesus' encouragement to know that I am blessed when people say all kinds of evil against me on account of Jesus. Rejoice, because if I hold onto the same things that Jesus said and taught, persecution will come. I want to be criticized for the same things Jesus was criticized for. If I'm being criticized for my manner or my harshness or something that Jesus never would have done, I need to pay attention to that.
When it comes to praise, I've learned to be a better "gift getter," rather than saying, "No, it wasn't that good." I've learned to say, "Thank you for that encouragement," and accept it as confirmation that God is using something that I said or did to help them bump into Jesus. I've stopped apologizing for leading a big church, and am realizing that the sovereign God has entrusted me with this place for this time. It's his church, his kingdom, and he has entrusted it to me for a season. Any praise coming my way, I hope, is received through that filter.
One of my main concerns is a growing tendency for churches, teachers and leaders to let go of God's Word and teaching when it comes to the topics and areas that are cultural hot buttons, all in the name of "love, grace and acceptance." Top of the list, at least in my area of the country, are gay marriage and gender identity. We are actually being hateful and destructive if we teach anything other than God's truth, even if we are doing it in a manner we have told ourselves is "more loving." I've always said, as a teacher and leader, I am not going to stand before Jesus one day and have him look at me and explain to me why he said what he said and how what I taught "in the name of love" actually left people more hurt and empty. I won't do it.
What excites me is the surprising truth that when we lean into the hardest topics without letting go of God's Word—marriage, gender, parenting, sexuality, finances—our numbers actually go up. People won't put up with condescending, "think happy thoughts," it-will-all-work-out teaching. We teach hard truth because life is hard. In this world, you will have trouble, but take heart, don't give up, Jesus has overcome.
When I was a kid, weekly church attendance was a given. In Colorado, we consider a person very active and involved when they attend one of our campuses two, maybe three, weekends out of the month. But podcasts, online participation and even binge watching an entire series are now the norm.
We used to consider using contemporary or cover songs as a way to get people to unclench their fists and relax when they entered our weekend service. Now we have to figure out greater and more effective ways to reach out through social media and begin that "unclenching—it's OK to be here" long before a person ever walks through one of our doors.
I'm an old dog who has to learn new "tricks." As much as we teachers like to speak to big rooms of people, the truth is, we need to learn to speak to people whose eyes are fixed on small screens from smartphones to laptops. We are a screen culture. We can argue about that or we can leverage it. It is now possible to reach infinitely more people through media than we could ever hope to reach by standing in front of a room of people sitting in seats facing one direction. That excites me.
Read more Candid Conversations with Outreach 100 pastors »
FLATIRONS COMMUNITY CHURCH
Lafayette, Colorado
Twitter: @JimBurgen
Website: FlatironsChurch.com
Founded: 1983
Affiliation: Nondenominational
Locations: 3
A 2016 OUTREACH 100 CHURCH
Attendance: 17,601
Largest: 15