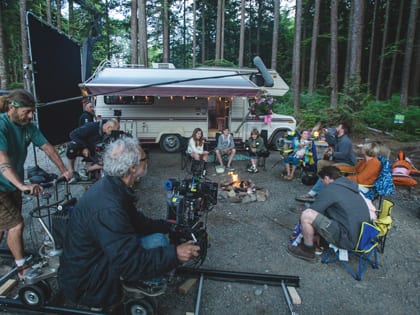 An interview with 'The Shack' author, William Paul Young, about the impetus behind the New York Times bestseller.
Outreach Inc. (Outreach magazine's parent company) believes in harnessing the power of movies to provide opportunities for churches and individuals to share God's love through film. The Shack, an upcoming release from Lionsgate Films based on the New York Times bestselling book of the same name, is one of those movies. Go to Outreach.com/TheShack for more info.
Have questions about The Shack? Read this statement from Outreach Inc.
An Interview With The Shack Author, William Paul Young
It was a book that began as one man's self-published Christmas gift to his children, but The Shack certainly didn't stop there. Since its 2007 release, the book has sold over 20 million copies, and a film based on the book is due to release from Lionsgate Films in March 2017.
Outreach contributing writer Paul J. Pastor sat down with author William Paul Young to talk about the formative questions behind the book, why the adaptation to film has been a goal for a long time and what conversations he hopes the film will bring to churches.
The book released a decade ago. What initially inspired the story?
Well, I've been a writer in the common sense for most of my life—writing small things for my friends and family. And over the course of my life, there were certain issues and topics I learned to love. I learned to explore a good question. At one point, my wife Kim pestered me: "At some point, for our kids, would you please put in one place how you think—because you think outside the box."
The year I turned 50, I felt that I was healthy enough as a human being to do that. So I began writing, much of it on my commute on the train to one of my three jobs at the time. My goal was to get it done for Christmas. I did, and printed 15 copies for my kids and close friends, at an Office Depot. Not once did I ever think about publishing it, and those 15 copies did everything I ever wanted that book to do. It was not originally intended for public consumption. I am more surprised than anyone at where it has gone since then.
A couple years later, when the book was put into print, Kim said, "You know I was thinking like four to six pages, right?"
I love story. It's a way to wrap your own explorations and your own history. It opens space for people to hear for themselves.
What were the questions that brought you to the writing of The Shack?
A lot of it had to do with suffering and loss. I have great sadness in my own history, including a very difficult relationship with my dad, and pretty intense sexual abuse as a missionary kid in a tribal culture and at a boarding school. It took me all of 50 years to wipe the face of my own father off the face of God.
If God is all powerful, and good, how do you put that over and against all the suffering and trauma that we experience? All the losses that human beings go through? The question that was fundamental to The Shack was, "Who is this God?" That's why in the book I juxtapose two paradigms—two different perspectives about the nature and character of God. One being a God who is distant, unapproachable, unreachable, a God who needs to be appeased, and relates to us with punishment and retribution. A God like Gandalf with a bad attitude. The Great, Disappointed God.
Mackenzie grows up in that God's world, then goes to the shack wanting answers to his questions about loss. That God doesn't show up though—the implicit point being that I don't think that God exists. The God who does show up is very relational.
A key question as I searched for answers early on was about the Trinity—the relationship between Father, Son and Holy Spirit became central. When I fully understood that the idea of the eternal subordination of the Son was heresy in every single branch of Christianity, it was a marker for me. It opened a huge can of questions.
Everything I write is an exploration of a question.
What impact did the project have on you personally?
In retrospect, part of the power of The Shack was that it gave people a language to have a conversation about God that wasn't religious, but relational. It validated their own great sadnesses. The book is written out of a healing process rather than part of it. Mackenzie's weekend represents an excruciating 11-year dismantling and rebuilding process that happened. It doesn't mean that there wasn't finish work, but the big reconstruction was done.
Everything that matters to me—Identity, worth, value, significance, security, meaning, purpose, destiny, community, love—all those things were in place before I wrote the book. The book, thankfully, didn't give me any of those things. What it did give me was an entry into other people's stories. The Shack has found a way to just bridge huge gaps and walls and divisions and boundaries. It's found its way into the hearts and lives and experiences of so many people from very diverse perspectives and communities. I have been invited into the holy ground of their stories.
Any time you write it's cathartic, because you put inside-world stuff out. That is a good thing. But The Shack wasn't my healing mechanism. My healing had been largely done before I was able to write it.