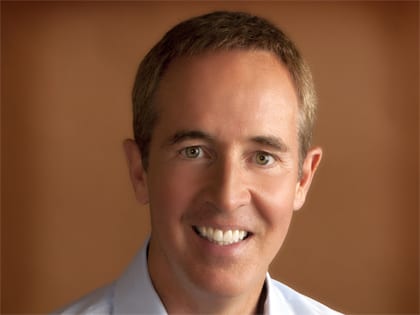 "You do the right thing, and you trust God with the consequences. Period. It's just that simple."
Interview by James P. Long
It still sits on his desk as it has for the past 17 years—a personal reminder and a quirky prayer: "Lord, που μου πήρε σε αυτό, εγώ σας εμπιστευθεί για να με πάρει μέσα από αυτό."
It's kind of funny to picture Andy Stanley leaning over his computer keyboard on perhaps the first day in his new office at North Point Community Church in 1995, there, at the church's inception, writing himself a reminder, then highlighting the text and changing the font to Greek "so nobody could read it unless they figured out what I did." Can you see him sitting there, printing it out, lying it neatly on the desk where it still sits today?
"Lord, you got me into this, I'm trusting you to get me through it."
For by almost any measure, North Point is a success story. A church launched with the intention of being "deep and wide"—a church the unchurched would love to attend, and a place where new children in faith would not stay that way. Today, with over 30,000 attendees—40 percent of whom describe themselves as "unchurched" before coming to North Point—it is one of the country's largest churches, with seven affiliated congregations.
The ministries are oriented around five catalysts to spiritual growth: biblical teaching, spiritual disciplines and involvement in ministry—as well as a churchwide intentionality about community and a faith perspective on pivotal life experiences.
So are there those times when Andy Stanley feels his limitations, when maybe he's a bit surprised by success? Those moments when he is acutely aware of what he isn't aware of?
"Yeh, well, we can talk a long time about that," he says, drawing out the word for emphasis. "The older we get, the less we know. And the older we get the less confident we are about what we thought we knew."
There is, of course, a flip side, where we know our own giftedness, where we see a pattern of success, where we still give God the applause, but we have a clear sense that we are walking in partnership with the Creator.
In his book Deep and Wide: Creating Churches Unchurched People Love to Attend, Andy Stanley explores what it means for a church to be both missional and attractional—following, he insists, the pattern of Christ Himself. He traces the rise of North Point Community Church and the troubled days at First Baptist Atlanta that gave rise to his departure from the ministry he shared there with his dad—he also underscores the legacy of ministry, personal integrity and vigorous faith he has received from his dad. He lays a biblical foundation upon which he builds a compelling case for creating churches that are, well, deep and wide. On the occasion of the book's release, Outreach magazine spoke with the author and pastor on a wide range of topics related to his own journey and his vision for the church.
An enterprise, as he sees it, the Lord got him into.
And is getting him through.
Andy, you speak of pivotal circumstances as a catalyst to spiritual development. They also open our understanding of one another. What are some of the crossroads experiences that have changed the course of your life and shaped your approach to ministry?
I grew up in a home in which the Bible was central, being a preacher's kid. Our family always prayed together. Some of my earliest memories are of the four of us, my sister and I and my parents, praying together. Any kind of even marginal issue or question or decision to be made, my dad would say, "Let's go into the den and pray." We would literally get on our knees as a family, every time we thought about moving, anything. That marked me. Growing up, there weren't any decisions that were made without prayer.
So many times I would ask my dad a question, and he'd say, "You just need to go pray about that." It would drive me crazy. Just tell me what you think I ought to do. He was like, "No, I just think you need to pray about that."
I can remember that frustrating me at times, but it taught me early on that I was personally accountable to God. I may be able to pull things over on my parents. I may be able to get by with things. And honestly, my dad would occasionally allow me to do things that I knew he didn't necessarily want me to do, but he told me to pray about it, and I came back and said, "This is what I think I should do." And he'd say, "Well, then that's what you need to do." [laughter]
You were in the eighth grade when the family moved to Atlanta, and your dad assumed pastoral responsibilities at First Baptist Church—a rather impressionable age for you and, in the early years at the church, not an altogether positive experience for him.
My dad came to the church as an associate pastor. The powers that be asked the pastor to leave, so my dad started preaching while they looked for a full-time senior pastor, and the church started growing. That kind of bothered them because they didn't want my dad to be the senior pastor. They wanted him to quit so they could move on with their agenda for the church. I remember him coming home from those dreadful deacons meetings. And I remember specifically praying as a family whether we should leave the church or stay. My dad was willing to leave, but was not willing to be influenced by men who had a bad agenda for the church. He was just open to God.
As an eighth grader, it instilled in me that you do the right thing, and you trust God with the consequences. Period. It's just that simple. Of course, as you get older, the complexity of circumstances makes it feel as though it's not that simple. But in some ways, it really is that simple. It was a big, defining moment for me.
Seeing church conflict up close—that preacher's kid perspective—some may find it surprising that you entered the ministry yourself. How did your decision to go into the ministry unfold?
I never really felt called to ministry as much of my friends did. They would go down front after the service on Sunday night as we did in the Baptist church, and they'd tell my dad, "I feel called to ministry." My dad would get them up in front of the church and introduce them, and everybody would clap. And I used to think, I'm not feeling that. I can remember trying to feel called to ministry—whatever that meant. You know? Almost jealous of these guys who had such certainty about what God wanted them to do. I just didn't. And I think I was afraid.
So one day—I was probably a sophomore or junior in college—riding with my dad somewhere in our Grand Safari station wagon, I said, "Dad, do you have to feel called to ministry? Or can you volunteer?" He turned to me and said, "I think you can just volunteer." I said, "Well, I'd like to volunteer. I don't know if I'm called or not." That was it. That was my big moment. No angels. No voices.