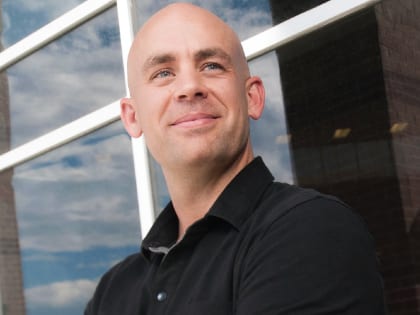 "Part of what drives me to this day is Christ called me into ministry. I ran, but he called me back, and he did not revoke his call."
Shane Farmer Senior Pastor
Cherry Hills Community Church
Highlands Ranch, Colo.
A 2014 Outreach 100 Church
"God's gifts and his call are irrevocable."
—Romans 11:29
Cherry Hills Community Church sits on 66 acres atop a hill in Highlands Ranch overlooking Colorado's Front Range to the west and, below, to the north, the city of Denver. There's symbolism here, embodying Shane Farmer's ministry aspirations for the next three decades; he longs to have an impact here, on south Denver and beyond.
Put this in perspective: Shane Farmer was a year old in 1982 when his predecessor, Jim Dixon, founded the church and began a ministry that, likewise, spans three decades—of Dixon's 40 years in ministry, 31 of them have been at Cherry Hills. This is a transitional moment not just for this church, but in the American megachurch nationwide—many of the founders of this movement's great churches are reaching maturity at the same time, making pastoral succession a hot topic in leadership circles.
Ask Shane Farmer for his take on succession and he has a fairly simple and straightforward answer: "Follow a man like Jim Dixon." Farmer, who assumed pastoral leadership of the church Oct. 20, 2013, speaks with an evident depth of feeling when he relates his first meeting with the man he was to follow in ministry.
"When I first got in the room," Farmer says, smiling, "I wondered if this was the right guy. He was so humble; he had achieved so much, planting this thriving megachurch, but he was so unassuming about it."
When Dixon notified the board and the congregation of his plan to step aside, he wrote, "As I reflect on the journey with Christ that I have shared with you here, I feel incredibly grateful to God for his mercy and grace. Everything that's happened here is because of him."
Farmer sees credibility in those words and aspires to emulate the spirit behind them.
He steps into that legacy following nine years at Willow Creek Community Church, first in student ministries for six years, then on the senior leadership team as director of discipleship and teaching pastor. Interestingly, there are similarities between the two churches, including their approach to the challenge megachurches face under the weight of their own broad reach and sheer size.
Along with whatever advantages size brings, there remains the question: How do you facilitate community and significant connection in a congregation of thousands? Small groups play a part, but at Willow Creek Bill Hybels and Shane Farmer started to explore a means of creating mid-size groups, like smaller congregations within the large-church context. You could champion a return to Adult Bible Fellowships or try to persuade people to carve time out of some corner of their calendar to schedule another meeting. But what would happen if you started where people naturally group themselves, in the worship center, then developed community around that?
That's the Willow Creek innovation Farmer has imported from Chicago to Highlands Ranch: Section Communities.
Here's how it works. The church identifies and trains a part-time staff person and a team of about 20 who take leadership of a section of the worship center, seeking to "transform our big church into small communities." People in a given section not only worship together, but spend time before and after the service getting to know one another, a process prompted by the staffer and jumpstarted by his or her core group. Section Communities also have monthly gatherings to share a meal immediately following the service and, as the community organically develops, they gather at other times for outings and volunteer opportunities. Section Communities may also have particular affinities: families, singles, empty nesters, 20-somethings, internationals, etc.
This seems an ambitious undertaking for the new pastor in his first year. Like any innovation, we might anticipate there would be three groups responding to the proposed change: the early-adopters; those who embrace change soon after; and the reticent, who take a wait-and-see stance, if not outright antagonism. So, a few months into it, how's it going?
"Well, because it involves recruiting and training staff, there is a cost associated with it," Farmer says, then pauses. "In the first few months, the church raised $2.5 million to fund the initiative. I guess that's one gauge of the response."
Relating this development triggers an emotional response in Farmer. Gratitude, presumably. In fact, as even casual conversation has unfolded, one notices an emotional range in the pastor—he laughs easily, but deeper, more complex emotion also seems close to the surface. It is this sense of transparent passion, evident now, that also drives his preaching—emotional engagement with his subject and his audience.
Much can be said about the challenge of following a well-loved 30-year pastor, or the mechanics and interpersonal complexities of leading a big church. But there is something more elemental and compelling here, hinted at in these emotions so close to the surface: a faith journey, leading to an irrevocable call.