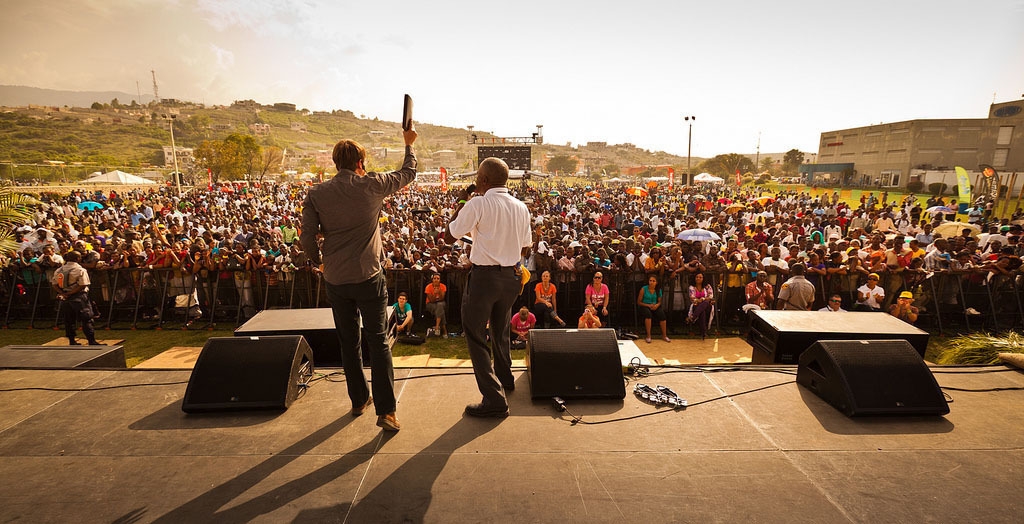 About 1,000 local churches partnered with the Luis Palau Association for the service-oriented, evangelistic event.
PORT-AU-PRINCE, Haiti—At the invitation of hundreds of Haiti's churches, the Luis Palau Association joined with local company Haiti Broilers to host the Fun in the Son Festival, an evangelistic outreach in and around Port-au-Prince.
Nearly 1,000 local churches collaborated with the Palau Association to reach thousands in Haiti with the Good News of Jesus Christ. Following months of hard work, including pastoral training for 800 Christian leaders and personal evangelism training for 3,000 counselors, the one-day festival on March 31 in the heart of Port-au-Prince drew more than 35,000 people.
While the landscape displayed scars of the tragic 2010 earthquake, the joyful faces and waving hands across the crowd saturated the event with an unreserved and jubilant atmosphere. Music from local and international artists and demonstrations by professional BMX and FMX athletes delighted Haitians of all ages, and evangelist Andrew Palau's message of hope, told through his own poignant testimony, led many to make a decision for Jesus Christ.
"It's the sight we long to see after so much work, expectation and prayer; so many people entering into a relationship with our living God and experiencing the same freedom we have graciously been extended," Palau said. "For this to come about in the current circumstances is nothing short of a long list of miracles."
During the week leading up to the festival, mission teams from the U.S. and Jamaica joined local churches to facilitate a total of 32 projects in eight days, including medical clinics, free eyeglass clinics, and activities for children and youth.
On Thursday, Palau visited an estimated 440 inmates at Port-au-Prince's largest prison. He and a few members of the festival team handed out hygiene packs filled with soap, toilet paper, toothpaste, and other necessities. Palau gave a Gospel message to three different groups inside the prison, inspiring 195 inmates to make a decision to accept Jesus Christ.
Over the next few weeks, a committee of local volunteers will work to connect new believers with a church near to them. Moreover, Palau said the campaign is just the beginning of the team's partnership with the church in Haiti. "We look forward to another year of service ahead in Haiti preparing for 2013," he said.
The Palau Association has a long history of partnership with Haiti Broilers' parent company, Jamaica Broilers Group, LTD. The agricultural company, based in Kingston, Jamaica, played an instrumental role in hosting several islandwide campaigns, including the 1993 Luis Palau Crusade, at which Andrew Palau accepted Jesus Christ.
Palau's debut book, The Secret Life of a Fool, a gripping account of his journey to faith, arrives in stores April 3.