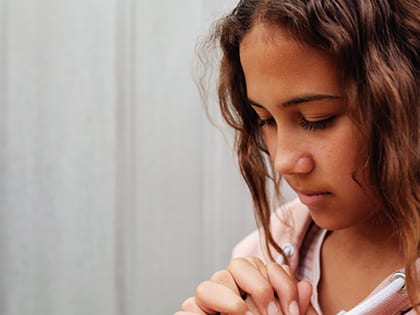 Practical Considerations for Youth Leaders Who Want to Lead Students to Worship
1. Teach them what the Bible says about worship.
Show them where the Scriptures say to sing, clap, raise your hands, dance, shout, play an instrument and bow down. Help them understand what worship is all about.
2. Be the message.
Model what you want to see. Worship passionately and fearlessly. Also, coach your adult leaders to set a good example of actively participating in worship.
3. Encourage a worshiping culture.
You have to be intentional. Share your heart. Teach your flock to be sensitive and love the presence of God. Affirm the kids publicly when they worship expressively. "That was such a blessing to see you guys really engaged in worship …"
4. Build the youth worship team primarily with youth.
The most effective life-impact for young people is by doing, not just attending services. Actively involving youth in the worship team empowers them as leaders today, not tomorrow, and builds the kingdom. It also encourages youth when they see their peers leading them. It may even motivate them to get involved, learn an instrument and join the team. Because teens often feel more comfortable relating to adults closer to their age, try to involve young adults in the youth worship ministry, but have a qualified adult oversee and/or lead the team for reasons of accountability, mentoring and quality control.
5. Listen to the kids.
Be a student of your students. Respect their input on songs and musical styles. Be aware that teenagers' taste in music is not monolithic—their preferences are widely varied, and they often do not agree among themselves on what they like.
6. Encourage other expressions of worship.
Not everybody is into music. Let kids do other art forms during "worship time" like drawing, painting, journaling or writing poetry. Have adult leaders offer instruction, encouragement and make sure that the time is not abused.
7. Help them connect with their roots.
You may have teenagers saying, "We want hymns," or, "We want to use the Book of Common Prayer." They even appreciate the creeds. Today's teenagers may be the smartest generation. Help them experience depth and historical connection in worship.
—Rob Still
DavidSantistevan.com