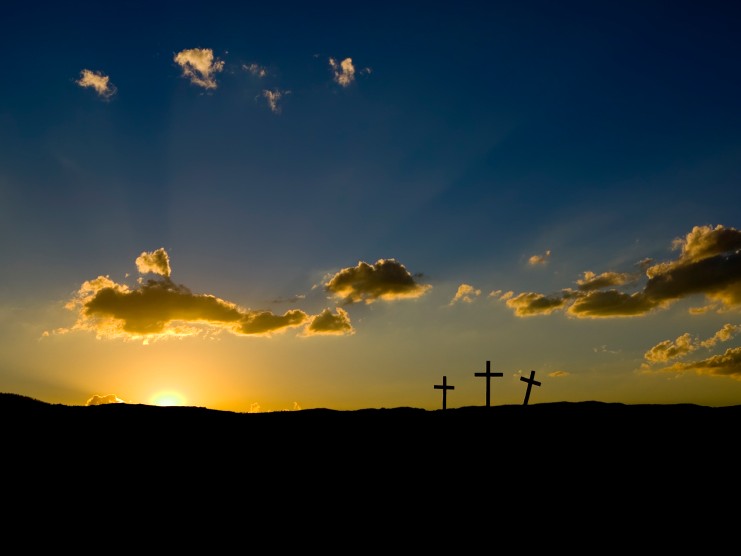 Churches in Orange County, California, displayed Christian unity in their "Easter Together" service.
Once a month, more than a dozen pastors from churches across Orange County in Southern California meet for lunch at area parks. Seated at picnic tables, they share stories and joke together, then lift their voices to worship. They cap off the gathering in prayer, merged in a tight circle, heads bowed, hands rested on each other's backs. Egos are set aside and congregation statistics forgotten at these lunches, where efforts to support one another's ministries through prayer and camaraderie take center stage.
The pastoral solidarity makes it no surprise that this monthly meeting gave birth to "Easter Together," a joint worship service in which local congregations celebrate the resurrection of Jesus Christ as one body. Several pastors who meet monthly have organized a joint sunrise Easter service for more than a decade, so the larger, midmorning offering that launched in 2008 was a natural progression, they say. "'Easter Together' is the result of our unity," says Boogie Rose, lead pastor of the Dana Point-based Branches Church. "It only works because we trust each other."
Notwithstanding their support for one another, the pastors emphasize following God's will each year—even if it leads them to not hold a unified service.
Five of the six churches involved in the April 2011 service reside in San Clemente, all are nondenominational, and the average weekend attendance at each church ranges from 120 to 800.
Last Easter, about 3,500 people came to the Easter Together service at a local park in San Clemente. The gathering allowed community residents to celebrate Easter with neighbors and afforded longtime friends who worship at different churches an opportunity to worship together.
Different worship teams and pastors handled music and shared the sermons, which included a children's message, while other church volunteers took on various aspects of the event, such as setup or outreach. Responsibilities have rotated each year.
The celebration erased barriers and competitive spirits among various churchgoers, Rose says.
For the unchurched, the event offered a safe venue to experience God's redemption. Advertised through door-to-door invitations, yard signs, bumper stickers, social media sites like Facebook—even a large banner hung on a busy San Clemente thoroughfare—the service attracted a fair number of newcomers, the pastors say.
"This was a highly approachable event for a person who wasn't familiar with church," says George Hulse, senior pastor of The Shoreline Church. "No churches were there to push their own agendas."
Nor was the service just a gimmick to add more bodies to pews, the pastors say.
"It wasn't like the stuff I've normally been involved with: How do we get new visitors? How do we maximize this opportunity?" says Holland Davis, senior pastor of Worship Life Calvary Chapel. "This was really about preaching Christ to people."
The exact number of people making decisions for Jesus is unknown, Hulse says, but plenty of guests have responded to the altar call every year.
"We had people coming to Christ," Davis says. "It was a huge encouragement."
The event gave attendees at the various churches a good reason to invite others. Worship Life Calvary Chapel attendees Marco and Alma Olmos invited a friend to the Easter service, and she accepted Christ. Davis says Alma has felt more freedom to share the Gospel at work and recently led another co-worker to Christ.
"It's amazing how God uses these kinds of events to ignite a passion for evangelism," Davis says.
The churches designated "follow-up teams" to pray with new believers and give them Bibles, Hulse says. And regular churchgoers were encouraged to check on family and friends they'd invited to the service who don't frequent a church.
A collection taken at each service was donated to a single cause. Last April, it went to Haiti relief, the year before, various Christian ministries, such as Young Life.
After four years, Easter Together will not take place in 2012. The pastors believe that this Easter God wants them to focus on their own neighborhoods. The joint Easter sunrise service will most likely continue, the pastors say, and while they are not sure how long the midmorning joint service will be shelved, they can definitely see it returning.
"God brought us together," says Chris Smith, lead pastor of Southcoast Church International in San Clemente, "and we enjoy worshipping together."
How To: Join Forces for Easter Service

• Seek God's desire. Confirm through prayer that merging for Easter follows His will and direction.
• Set aside agendas. Forgo promoting church names and denominations; be one united church.
• Meet every few weeks. Brainstorm to strategize on event logistics.
• Share responsibilities. Rotate roles annually, from sermon to emcee to children's ministry.
• Amass volunteers. Recruit an army of people to help greet guests, set up and break down.
• Reach the unchurched. Distribute fliers, post signs and banners, and use social networking.
• Delegate duties. One church sets up the main stage, another brings desserts and another creates fliers.
• Trust one another. Pastors must walk in faith, support their peers and meet together for prayer.
Find more Easter outreach ideas »