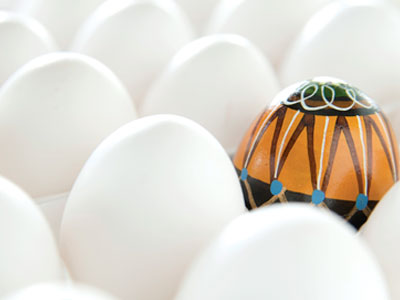 Outside-the-box ideas to reach the community throughout the spring
Mardi Gras:
Fat Tuesday Celebration
Leverage the popularity of Mardi Gras to host an event to engage unchurched friends and family. Follow it up with Ash Wednesday services the next day.
St. Mark's Episcopal Church found that a Mardi Gras party offers a unique connection to the people of its town, Mystic, Conn. Organizers realized that a Mardi Gras party could appeal to all ages—and provide the opportunity to explain the day's religious significance.
The church invited guests to wear costumes and provided Mardi Gras masks at the door. Organizers dressed the room in full regalia, blasted jazz music and served Cajun cuisine. Pastor Mark Santucci gave a brief message, explaining the holiday's relationship to Easter.
When the Christian faith arrived in Rome, the early Church adapted pre-existing holiday celebrations into the new faith rather than abolish them altogether. Thus Mardi Gras, or Fat Tuesday, became the preparation day and "last hurrah" before Lent.
St. Mark's also collected a free-will offering at the door, with all proceeds going to a local shelter the church regularly sponsors.
"This event has drawn first-time visitors," Santucci says. "They're able to see the church in a really welcoming and fun environment. It's a great, relaxed introduction."
Lent:
United Outreach
Research indicates that disharmony in the church, including perceived competition between local congregations and infighting, deters people from coming. During Lent, bust that stereotype by coming together with churches in your area to host midweek services at a different local church with a different pastor speaking each time. Coordinate sermons and special events between all churches. Take it a step further by combining all churches for a communitywide service on Easter.
Palm Sunday:
Day of Service
On the day of Jesus' grand entry into Jerusalem, and less than a week before his crucifixion, Christ refused to ignore suffering and healed on the Sabbath. What better day to help heal hurts in your community? Host a day of service on Palm Sunday and invite people to join you for worship on Easter.
Holy Thursday:
Passover Seder
Partner with a local synagogue or rabbi to host a Passover dinner at your church, selling tickets for tables of eight to 10 church members. Encourage your congregants to invite unchurched and dechurched friends and family members to join them at their table. Provide a traditional Seder, and ask the rabbi to explain the significance of the meal and its many components. Provide acoustic worship and at the evening's close, extend an invitation to Easter worship services in your area.
Good Friday:
Passion Experience
A day of contemplation, meditation and thanksgiving, Good Friday is often observed as a personal experience—a journey with Christ to the cross. Extend a communitywide invitation to a personal worship experience.
In 2006, The Shoreline Church in San Clemente, Calif., invited its community to participate in a Good Friday service that featured hands-on worship stations.
"We wanted something that would put people in a place to visually and thoughtfully contemplate Christ's sacrifice for us," says Ministry Associate Kristen Morrison, who planned the gathering.
Guests encountered a spotlight-illuminated cross in the center of a candle-lit room. Worshippers wrote personal confessions on pieces of paper and nailed them to the cross with a hammer, then headed to one of several worship stations. There, they painted, journaled and meditated on Christ's sacrifice. The service even featured a special kids' worship corner. Afterward, worshippers hung their creations for display in the church office.
"We got a lot of great feedback from the creative types at our church," Morrison recalls. "Sundays are usually for the auditory learner. We wanted to reach the visual and hands-on learners. It was a great way to really touch people on a personal and creative level—to do whatever they needed to slow down and think about what Jesus' sacrifice means for their lives."
Easter:
Personal Invitations
Give your church unique ways to invite friends and family to your services and celebrations. Invite participants to create Easter baskets, including items such as fresh fruit, baked goods, candy-filled plastic eggs, a $5 gift card, a pocket Bible and a personal invitation to your church's services and events. A month prior to Easter, create a display basket and provide pocket Bibles that participants can take for their baskets.
Drive-through Drama
Instead of an indoor production, give people a convenient and intriguing way to experience the gospel on Easter weekend. Use your church's parking lot to stage a free, 10-minute, drive-through drama portraying scenes from Christ's life and journey to the cross (Jesus' birth, feeding the 5,000, triumphal entry into Jerusalem). Make the scenes interactive. At the end of the drama, invite motorists into the church for free refreshments and more information about Easter services.
Student Adoption
Many college students don't have the time or money to travel home for Easter or spring break. And statistics show that few students find a local church home after they arrive on campus. Your church can offer a little piece of home. Coordinate with an on-campus ministry to adopt a student for Easter. Ask families to sign up to pick up a student or group of students for Sunday services and include them in their Easter celebrations at home. Or invite a large group to brunch hosted at your church.
Extended Labyrinth
Put a twist on the traditional labyrinth and stations of the cross. A few years back, Highland Covenant Church in Bellevue, Wash., turned the church gymnasium into an elaborate, 16-station labyrinth, complete with a walk through the torn veil and an illuminated 300-pound silver cross immersed in water.
Easter for the Hurting
Who in your community cannot attend an Easter service? Think about the places around you where people are hurting. Coordinate with a local hospital or nursing home to offer Easter services. Assemble a team to provide acoustic worship, a drama, Scripture reading, communion and a message. Or provide the worship and bring in a DVD of the worship service the night before. (Arrange for a large screen.) If your church is near a prison or jail, ask permission to host a worship service there. Bring musicians—make sure the words are projected on a screen—communion elements, Bibles and a message of hope to inmates. If a local church already has a jail ministry, partner with it for an enhanced service.
Community Join-in
Instead of creating an Easter celebration, how can your church be involved in your community's Easter traditions? If your area already has an egg hunt, look for ways you can be a part of it. Rent a booth, pass out candy-filled eggs and balloons and offer face painting and child fingerprinting. (Partner with your local police department.)
Artistic Impressions
Invite a local artist to use his or her gifts to enhance your Easter worship. For example, enlist an artist to paint a mural on stage during the service or ask a local potter to bring a wheel on stage and mold a piece to illustrate God's guidance. Last year, Connexus Community Church in Ontario, Canada, hosted a tattoo artist during its service as a way to illustrate the indelible imprint Christ makes on a heart.


Find more Easter outreach ideas »
Find more spring outreach ideas »