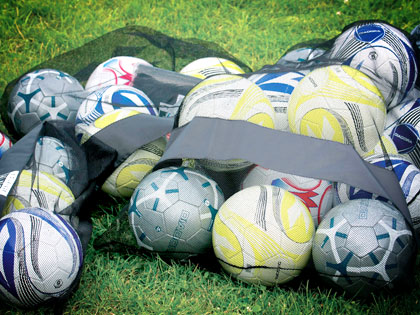 A church starts free children's sports leagues for a low-income neighborhood
For Michael and Melinda Melchiorre, the free sports leagues sponsored by People's Church in Hamilton, Ontario, offer many benefits for their five children: boosting their self-esteem, making new friends and getting in shape.
"It also gets them away from TV and the computers," says Melinda, an early childhood educator. "It gets them into the real world … and doing stuff with real people."
The sports program is part of a new outreach ministry at the 600-member church in Canada that Lead Pastor Tony Sawler says has helped the church grow significantly.
"I really see as a church how we're reaping the benefits of all these different things that are helping us grow," Sawler says. "In the last seven or eight years, we have probably doubled in size."
The church started the ministry in 2011 in an effort to reach out to nearby low-income areas, including the Ralston neighborhood where 35 percent of the residents live below the poverty line—nearly double the rate citywide.
The program has proven immensely popular with nearly 1,300 children ages 6-13 participating in five sports leagues.
"The response has been overwhelming," says Kirk Rookwood, the sports league director who previously ran community sports programs in Los Angeles and Toronto. "We no longer have to hand out flyers or do advertisements because the response has been so great.
"The children actually don't want to leave. I've had children coming up to me almost in tears, saying 'Kirk, can we please extend the league age? I'm 12 years old and I won't be able to come back. I love it too much.' Because of that, we had to extend the program to 13-year-olds."