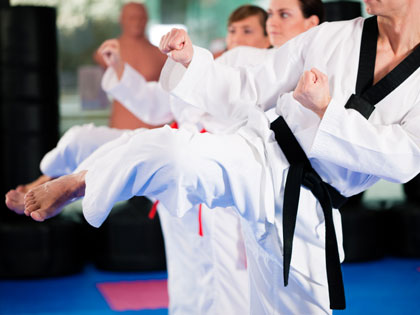 How one church uses martial arts to minister to local kids
Hilmar Covenant Church, Hilmar, Calif.
As kids gear up to head back to school and parents solidify the weekly routine of practices and lessons, consider offering a martial arts class at your church as an extracurricular option. Hilmar Covenant Church in California has found that karate kicks attitudes into shape and tones the children's ministry for community outreach.
How to Do It:
— Contact your church's insurance company; you'll need to take out a separate sports policy. Often, this is based on your church or ministry size.
— Seek a member trained in martial arts who's willing to teach one to three weekly classes, with the help of one or two volunteers. All should have martial arts training. Hilmar Covenant Church's children's minister, Janelle Scheper, is a second-degree black belt and teaches the church's classes.
— Advertise with fliers at your local community center or gym. Hilmar Covenant, however, has found that simple word-of-mouth is the best kind of marketing. Have those interested contact the church to register.
— Divide the children into belt levels, which is often by grade or age. For example: kindergarten through second-grade; third- through sixth-grade; and seventh- and eighth-grade.
— Provide resources. Karate for Christ International provides resources for instructors and churches on everything from uniforms to class format to help you plan and design your ministry.
— Ask the instructor to begin the 45-minute classes with a prayer, before moving into stretches. Scheper sprinkles the rest of the class with Scripture. "We talk about stranger danger and school yard defense—staying out of trouble and never striking first," she says. "I'm always able to use Jesus as an example."
COST:
Hilmar Covenant takes out a $2 million liability insurance policy, which cost the church $1,500 the first year and $500 the second year, in premiums. The church charges participants $35 a month, plus a uniform. Depending on your community and the interest shown, consider sponsoring children of families unable to pay.
RESULTS:
Of the 52 children enrolled in Hilmar Covenant's karate classes in 2005, 45 were nonmembers, several of whom are non-Christians. Scheper says many of the moms and dads have commented on positive changes in their children's attitudes. "But the best thing about this ministry is that it's giving kids self-confidence," says Scheper. "It's not about competition, but it is about teaching kids to set goals and reach them, with God's help."
—From Outreach magazine, July/August 2005