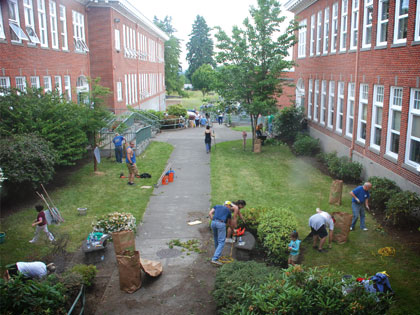 Portland church volunteers show Jesus' love through public school service
In the secular bastion of uber-liberal Portland, Ore., the city's most underresourced urban public high school welcomes tutors and other volunteers from an evangelical church onto campus every day—without flinching.
SouthLake Church in West Linn, Ore., which averages a weekend attendance of 1,500, runs and supplies a food pantry and a clothes closet for teenagers on the school premises. Overcoming suspicious school administrators' fears of evangelizing, the church has also provided tutoring, school supplies plus an army of volunteers on an annual clean-up day, the past four years.
"We have volunteers there to help the students, engage with the students and build relationships with them," says the church's Heather Huggitt, a 26-year-old coordinator who works on the Roosevelt High campus daily with a team of volunteers.
Knowing the school would balk if the volunteers proclaimed Christ, they have channeled all their energy into expressing the love of Jesus solely through service.
"It has made a huge impact on all of us," Huggitt says, "to be able to put our faith to action: We get to walk the talk—serving others with no agenda, loving people because Jesus has called us to, simply loving people because people matter."
Also key to gaining access was being part of a larger movement. Kevin Palau, president of the Portland-based Luis Palau Association started by his evangelist father, teamed up with the first openly gay mayor of Portland, Sam Adams, to initiate the model in 2008. Palau had included a social service component in a revival event in Portland, and when Adams saw the volunteers' sincere zeal to serve, he and Palau devised a plan that brought thousands of Christian volunteers into scores of public schools and agencies."
Our society is so self-focused," Huggitt says. "When you get the focus off yourself and start looking though glass instead of a mirror, your vision of not only the world expands, but of God."