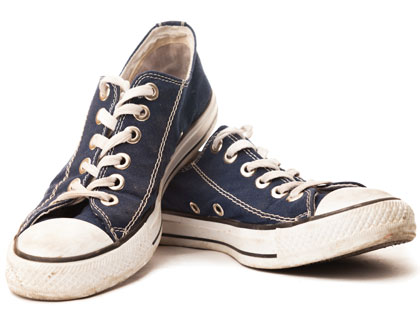 A Chicago church partners with the Shoeman Water Project to turn gently used shoes into fresh water.
Jesus turned water into wine. Judith Horsley is turning shoes into water. Horsley, the church council chair at First United Methodist Church of West Chicago, is accomplishing this feat through the Shoeman Water Project, an organization that brings clean drinking water to people without it.
"The money earned from the sale of shoes is used to purchase water well drilling equipment and water purification systems," Horsley says, adding that the shoes are then exported to street vendors in third-world countries, doubling their impact.
Horsley's church, which averages about 100 attendees each weekend, took on the project last year when the church's Green Disciples committee wanted a way to participate in the United Methodist Church's "Change the World" campaign. Initially, it asked its neighbors who were having garage sales to donate their unsold shoes. Then, a local school collected about 1,000 pairs.
During this year's Fourth of July parade, the church sponsored a float with a banner that read: "We have a dream to collect 5,000 pairs of shoes and change the world." The float helped the volunteers reach their goal. Now, they are doubling their goal to 10,000 pairs.
"We are happy to have found a simple way to help others," Horsley says. "Some of the problems in the world appear so overwhelming that people just give up, but it's a very simple thing to clean out the back of your closet and find shoes you haven't worn in a couple of years."