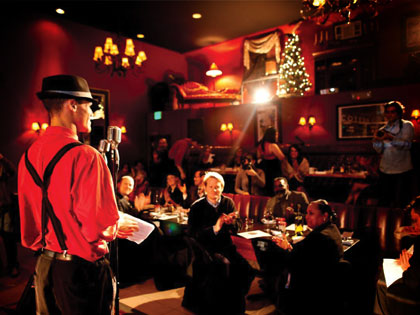 A San Francisco church supports a local supper club run by at-risk youth in myriad ways.
Dominic Souse, 21, spent most of his life in foster care, gangs and juvenile halls. But since getting a job at Cora Jean's Old Skool Café—a 1940s-styled supper club operated by at-risk youth aged 16-22—Souse has broken the cycle that often leads to homelessness, prison or worse. Starting two years ago as a dishwasher at the restaurant, Souse is now the lead server.
"He's just an amazing young man," says Teresa Goines, founder and director of the nonprofit restaurant in one of San Francisco's toughest neighborhoods, the Bayview district. "He has come to know the Lord, learned to let his walls down and learned to trust and to receive love and give love. He's now helping train the newer youth coming in."
Souse is one of numerous chefs, servers and entertainers at the 8-year-old restaurant. The faith-based violence prevention program is the realization of a vision that Goines, a graduate of Westmont College, had while working as a corrections officer in the Santa Barbara County Probation Department in the late '90s.
"I prayed and asked God to give me a vision to really help these kids get out of gangs and break that cycle of going back to prison over and over," Goines says. "God created them to live and fulfill their destiny."
Some San Francisco-area churches have been supporting the effort. Anna Kang is a 29-year-old regular volunteer at the restaurant and a member of Reality SF, a San Francisco church with a weekend attendance of about 1,200. Reality SF has made Old Skool Café one of its local ministry partners and has donated funds, bought the restaurant's coffee to serve on Sundays and provided volunteers to host, do office work, bus, wash dishes, bartend, or even just dine at the restaurant in groups. Kang has even mentored girls in the program.
"There is a sense of hope, providing somebody who believes in them and who actually follows through and helps them," Kang says. "When you ask them what their dreams are, these kids have dreams. They want to start their own companies, their own designer lines. They are so excited and motivated."