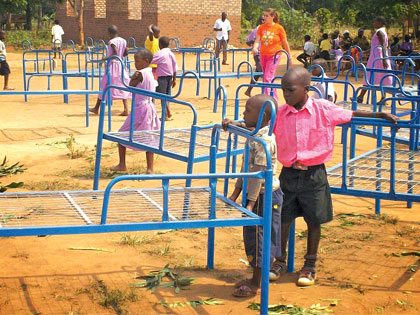 Much like Christ promises rest for the weary, First Baptist Church in Olney, Texas, promises beds for orphaned and abandoned children in Uganda.
The country is home to some 1.2 million children under the age of 17 who have lost both their parents to HIV/AIDS; many live in orphanages that are often short on beds. To help, the church partnered with the nonprofit organization Sweet Sleep to deliver nearly 600 beds throughout Kulu and Kampala, Uganda, along with blankets, Bibles and mosquito nets.
The beds gave the church's small-town community a glimpse at what it means to serve others, and the church invited friends and family to join the effort. In total, they raised some $80,000 (equal to more than 20 percent of the church's annual budget) through garage sales, quilt auctions, Crock-Pot lunches, and a "Bottles for Beds" campaign, in which the church gave families one-gallon jugs of water to drink and then fill with coins.
For the orphanages, the beds symbolized Christ's love as a 16-member team from the church traveled across the world to make the deliveries.
"What a mighty God we serve," Pastor Grace Kabuye of My People's Ministry — a home that received beds — wrote on a special Facebook page for the mission trip. "The children are in dreams! We are all wondering how someone can come all the way from America to bless a Ugandan child."
The experience also affected participating church members.
"Preparing for this trip, I thought 'Oh, I'm going toAfrica. No big deal,'" high school sophomore Sydney Montgomery wrote in a blog post about the trip. "But seeing the children laughing and getting all excited about a bed … now I'm like, 'This is huge! I can do so much more than I'm doing!'"