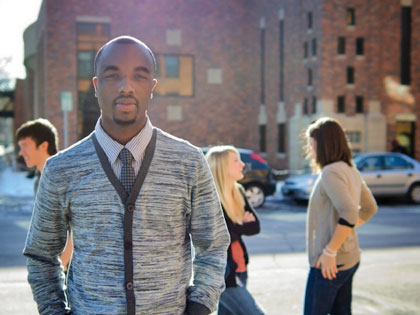 Send teams to serve those in need in inner-cities.
Serve people in need in inner-cities and expose the people of your church to the realities of poverty by sending teams to participate in an Urban Plunge weekend.
Gloria Dei Lutheran Church in Urbandale, Iowa, sends teams of youth to Urban Plunge, through which participants work with faith-based social service agencies in inner-cities, such as homeless shelters or food pantries.
Though Jordan, who came from a comfortable suburban neighborhood in Urbandale, Iowa, had nothing in common with the homeless people he was sharing a meal with, conversation came easily as he spoke about the universal human need for hope.
"Jordan was kind of a shyer kid, but he felt the need to start sharing with one of the gentlemen at the homeless shelter about the hope that God has given to both of them," says Tim Kightlinger, Gloria Dei's director of youth ministries
The urban mission agency Christ for the City International created Urban Plunge.
"We hit the streets, we set up, give out food, pray with the homeless and meet felt needs with prayer, and then we come back to debrief as a group," says Sara Harris, who served as development manager for Christ for the City International in 2008. "We want to get people out of their comfort zones, out of their suburbs and rural areas, and into the city."
After the weekend is over, participants are encouraged to choose one ministry form that best suits their skills and passions and stick with it. "Urban Plunge is all about discovering your passions and purpose in ministry and joining God where he's working," Harris says.
Many participants are finding that God is working in the cities where times are tough, but hope shines bright.
"In the Bible, we're told to live like Christ," Harris says. "Christ wasn't in the big mansions. He was on the streets with the poor."