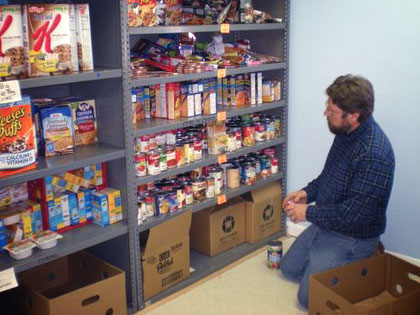 Provide a sense of normalcy as you help people in need.
Unlike more traditional food pantries that can seem impersonal and give out only pre-packed boxes of food staples, your church can operate a choice food pantry that creates a sense of normalcy and dignity while helping those in need.
The Store, a pantry run by Harvest Chapel Assembly of God in Sandwich, Ill., is one of many pantries today that have implemented a grocery-store-like atmosphere that allows visitors to use grocery carts and "shop" for free food, choosing what is best for their families from shelves set up in the pantry.
In addition to food, The Store also provides Bibles and caring volunteers who talk with, listen to and offer to pray with pantry visitors.
"The people need the food, but they also need someone just to sit down for five minutes to talk to them, pray with them and genuinely be concerned with what's going on in their lives," says John Haddock, director of The Store.
That kind of personal connection also is at the heart of Food for Thought. A nonprofit conglomeration of 15 to 18 churches, Food for Thought operates a stationary pantry at New Harvest Christian Church in Oregon, Ohio, and a mobile pantry that takes food to people who can't make it to the church site. It also runs a weekly ministry providing lunches and friendship to Toledo's homeless, such as Willard, a recipient who lived on the city's streets for 17 years before Don Schiewer, New Harvest's pastor of servanthood ministries, began developing a friendship with him.
The relationships Schiewer and other volunteers built with Willard helped him get into transitional housing, obtain an identification card and begin looking for work, Schiewer says.
Schiewer, Haddock and the volunteers they work with know they won't eliminate hunger and poverty, but they offer friendship and hope in trying times.
Says Haddock: "We can't solve all the problems, but we can give them food, we can pray with them, and we can give them hope in Jesus."