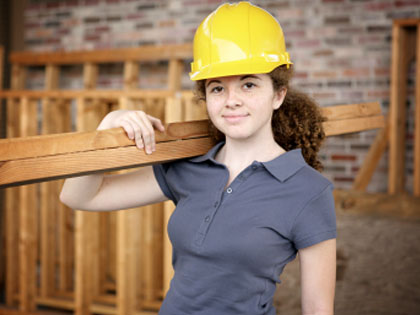 Help build homes and share Christ's love with the community.
Enlist women from your church to participate in a Habitat for Humanity Women Build project, helping to build homes for those in need.
Tonya Cain recruited women from her senior Sunday school class at First Baptist North Mobile in Saraland, Ala., to help with a Senior Women Build, geared toward women 50 and older, in spring 2009.
When Cain and four other women arrived at the site, they each got gloves, work pouches and T-shirts. After putting on hard hats and reviewing the safety rules, all the workers gathered for prayer around the fresh foundation of a three-bedroom house. Men and volunteers younger than 50 filled out the ranks, but everyone answered to a female foreman.
"Then we just went to town," Cain says. "We started doing the ceiling trusses, helping guide them into place."
At the end of the day, Cain says they thoroughly enjoyed the ministry and extended the invitation to other senior women in the community. During the four months it took to complete the build, women from more than 10 other churches came to offer their time and energy.
For Cain, building a house gave her an opportunity to share Christ's love with the community.
"Some people are nervous to witness," she says. "That's a witness where I don't have to open my mouth."